Tyrant Farms is reader-supported. When you buy through links on our site, we may earn an affiliate commission.
Learn more
Edible roses are a delicious, nutritious and beautiful addition to your edible landscape.
---
Updates Feb 8, 2019 with new rose varieties, harvesting details, FAQs, and pictures!
After the introduction section, this article will cover the following information:
Part I: Edible parts of a rose plant and how to use them
Part II: Picking the best varieties of edible rose plants 
Part III: How to grow edible rose plants organically 
Part IV: Frequently asked questions about edible roses 
Our introduction to edible roses
The Tyrant and I love growing interesting and unusual varieties of food in our edible organic landscape. Gardens don't have to be designed as ugly rows of plants.
Ideally, gardens can perform multiple functions. We think providing a relaxing, beautiful environment for humans is one such function.
Given our somewhat limited space, there is usually quite a bit of spousal bickering that has to take place before we agree on any given plant that will be added into our system, especially if it's a long-lived perennial plant.
My primary consideration: is it edible? The Tyrant's primary consideration: does it produce beautiful flowers?
Luckily, there are plenty of plants that match both these criteria, so our marriage has managed to stay intact throughout many years of gardening and plant trials.
Our first edible rose plants
One such plant that we initially squabbled about years ago was roses. When The Tyrant informed me that we would be putting in roses that year, I initially protested.
Why should we waste garden space on a large perennial plant that doesn't produce food (and are typically very disease-prone)? Just because rose plants are pretty wasn't a good enough justification for me.
However, once The Tyrant educated me on the fact that plenty of rose varieties do in fact make wonderful edibles, I acquiesced. I'm glad I did because roses are actually one of the most multifunctional plants we grow – and, yes, roses aren't simply edible, they can be downright delicious.
The rose family
In case you didn't know, roses have quite a famous family (Rosacaea). They're closely related to almonds, apples, apricots, cherries, peaches, pears, plums, and other fruit you've probably eaten.
I. What parts of a rose are edible and how do you use them?
Don't let those thorny branches fool you: nearly every part of a rose plant is edible…
1. Edible Rose Leaves
Yes, rose leaves are edible.
Rose leaf harvesting tips
Pick rose leaves when they're young for best flavor. Pluck them off with your fingernails or use clippers and gloved hands if you're harvesting from a thornier rose variety.
How to eat rose leaves
You don't want to eat rose leaves as a salad green, but they are good in a tea leaf mix. On their own, they have a flavor similar to black tea, but they don't contain caffeine.
Use rose leaves raw or dried in an herbal tea mix.
2. Edible Rose Buds 
Yes, rose buds (the unopened flowers) are edible and LOADED with rose flavor.
Rose bud harvesting tips
We like to pick unopened rose buds on our domesticated plants throughout the spring and summer months. Cut the whole bud off at the base using clippers when the bud is full and just about to begin opening.
We also find small-budded wild roses growing near us that produce a flavor that's perhaps even better than our large, domesticated varieties. Unlike our domesticated varieties that produce throughout the warm months, the wild rose variety in our area only produces one round of buds in early spring.
Just be sure to leave enough buds on your rose plants so they can produce petals and hips!
How to eat rose buds
We lay our freshly harvested rose buds out in a single layer on a plate or tray to dry indoors. After they're completely dry (about a month) they can be stored in jars or bags.
Rose buds make an excellent tea, but can also be used as flavoring in other dishes as well. We plan to try pickling fresh rose buds this spring and will report back on that experiment.
3. Edible Rose Petals 
Rose petals are also edible.
Rose petal harvesting tips
The nice thing about rose petals is you don't have to harvest the whole flower to obtain petals. You can simply pull them from the flower head before they begin to brown and fall off the plant.
Yes, this means you can harvest rose petals and still get rose hips!
How to eat rose petals 
There are lots of ways to eat rose petals. One thing you might enjoy doing is googling a particular country, region, or ethnic group + "rose petal recipe" to find culturally unique rose petal recipes.
A few of our favorite ways to eat fresh rose petals:
add fresh rose petals to a salad,
chop rose petals and put them in honey to be used as a spread (popular in Greece),
chopped into a summer sorbet,
candied rose petals,
add rose petals as a colorful dessert garnish.
You can use dried rose petals in teas as well, but they don't pack nearly the flavor of rose buds.
4. Edible Rose Hips
Yes, rose hips are edible.
What has more Vitamin C than oranges and tastes like a tangy apricot? Ripe rose hips. That's why rose hips are probably our favorite edible part of the rose plant.
Are rose hips a fruit? Like apples, rose hips are technically a "false fruit" since the edible part is actually a swollen part of the stem (receptacle), not a developed ovary.
Each variety of rose produces different sizes, colors, and flavors of hips (see section below for the best varieties). The hips we grow ripen to certain hues of red and orange.
Rose hip harvesting, preparation, and cooking tips
Harvest rose hips when they're fully orange or red in color (no green remaining). Clip the hip at its base with clippers to remove from the plant.
Cut the hips in half and scrape out the seeds with a blunt knife or your fingernail.
If you don't have many rose plants, you can store the fresh hips in a freezer bag in your freezer until you've collected enough for a recipe (jam, sauce, etc). Or you can dry and reconstitute the rose hips for use in tea, jams, puddings, sauces and more when the need arises.
Rose hips truly are delicious in the above applications, with a flavor most proximate to a tangy apricot (their close relative).
Can you eat raw rose hips? Yes, you can eat raw rose hips, but we think they're better cooked and made into specific rose hip recipes.
II. Edible Rose Plants: Choosing the best varieties
As mentioned above, not all roses are created equal in the flavor or easy-to-grow categories (our two most important categories as edible organic gardeners).
Over the past 50+ years, roses have been bred/hybridized primarily for ornamental purposes, not edibility. Older rose varieties often have very good rose hips since they were used/bred for food production as well as ornamental qualities.
Own-root versus grafted roses
In addition to edibility and breed, another critical factor in selecting good edible rose plants is own-root vs. grafted roses:
Own-root roses – As the name implies, own-root roses have their own roots, rather than being grafted on to rootstock of another variety. The entire plant, from root to flowering top, is the same variety.
Grafted roses – Grafted roses are the tops of a particular rose variety you're buying grafted to the root stock of another variety, likely selected for being resistant to certain soil-borne diseases.
We highly recommend getting own-root roses! To save space, we won't provide a lengthy explanation why here, but instead advise you to read more from Heirloom Roses if you're curious.
Best edible rose varieties
Based on our growing experience, research, and discussions with other edible rose enthusiasts, we also highly recommend you get David Austin roses. Why? First, his incredible breeding work produces robust, disease-resistant plants. Second, he breeds for traits that are important for edibility, namely highly aromatic flowers and (often) large hips..
The following varieties are each excellent, depending on the edible parts of the rose you most desire and the growth habit you want:
David Austin varieties best for edible rose HIPS (click affiliate links below for more info or to purchase): 
R. moyesii 'Alba' – Growth habit: bush/shrub | David Austin (DA) description: Large, single, white flowers of silky texture, quickly followed by exceptionally large, orange-red hips. There is a strong Old Rose fragrance. A healthy shrub with vigorous, spreading growth.
R. rugosa, 'Blanc Double de Coubert' – Growth habit: bush/shrub | DA description:

More than 100 years after its introduction in 1892, this rugosa is still treasured in gardens everywhere. It continuously produces pure white semi-double flowers almost all season without a break. Renowned for its intense fragrance. Displays red hips in the fall that are both decorative and useful for vitamin C rich tea, jam and jelly. The plants are tough, vigorous, naturally disease-resistant and hardy through Zone 3. Flower size: 4-5″.

 
R. filipes 'Rambling Rector' – Growth habit: climber/rambler | DA description: Bears large heads of small, creamy white, semi-double flowers which eventually fade to white. They have a powerful musky clove scent and are produced in great abundance on strong, dense, twiggy growth. The flowers are followed by masses of small hips in the autumn. 
'Generous Gardener' – Growth habit: climber | DA description:

A rose of delicate charm with beautifully formed flowers, which nod gracefully on the stem. When the petals open they expose numerous stamens, providing an almost water lily-like effect. The flowers are a soft glowing pink at the centre, shading to palest pink on the outer petals and eventually fading almost to white. There is a strong and delicious fragrance with aspects of Old Rose, musk and myrrh. The leaves are a pale, almost greyish green, typical of the Musk Rose group and they stay on until late into the winter. If it is not dead-headed, it produces large, orange hips in the autumn. An extremely healthy variety.
*Note that roses are self-fertile, so you don't need more than one plant to get edible rose hips so long as there are pollinators around.
Our pick of David Austin varieties best for edible rose FLOWERS (buds and petals): 
'Lady Shallot' – Growth habit: large, bushy shrub | DA description: 

One of the most reliable and hardy roses in our collection – an ideal rose for the inexperienced gardener.

(Tyrant note: we're very experienced gardeners and LOVE our 'Lady Shallot'.)

It is highly resistant to disease and will bloom with unusual continuity throughout the season. The young buds are a rich orange-red that open to form chalice-shaped blooms, filled with loosely arranged petals. Each petal has a salmon pink upper side, which contrasts beautifully with the attractive golden yellow reverse. The flowers have a pleasant, warm Tea fragrance, with hints of spiced apple and cloves. It quickly forms a large, bushy shrub with slightly arching stems. The mid-green leaves have attractive, slightly bronzed tones when young. 
'Golden Celebration' – Growth habit: large, bushy shrub | DA description: This is one of the largest-flowered of all our English Roses, excelling in all climates. The rich golden yellow flowers are in the form of giant, full-petalled cups. These are initially tea-scented but often develop a wonderful combination of Sauternes wine and strawberry. The flowers are held beautifully poised, slightly nodding on long arching branches. The ample foliage is large, glossy and light green, resisting disease well. *Winner of the best shrub and most fragrant variety from the Royal National Rose Society in 2. Grand Champion, South Australia Rose Society Show (another favorite at Tyrant Farms)
'Graham Thomas' – Growth habit: climber | DA description: 

Bears medium-sized, cupped blooms. Their color is an unusually rich, pure yellow that would be hard to match even among modern roses, and is entirely missing among Old Roses. There is a medium-strong, fresh tea rose fragrance, with a cool violet character typical of its color group. It has attractive, smooth green foliage. Good repeat-flowering from early summer onwards.

*Voted the World's Favorite Rose
'Teasing Georgia' – Growth habit: climber | DA description: 

A very refined yellow rose of great beauty and value – a superb example of the Leander Group at its best. The rosette-shaped flowers are particularly attractive. The centre petals are in the form of rich, deep yellow cups, while the outer petals fall back and fade to palest yellow providing a most pleasing two-tone effect. There is a lovely medium to strong tea rose fragrance. It is extremely healthy and repeat flowers well.

'Crown Princess Margareta' – Growth habit: climbing | DA description: 

Bears quite large flowers in a lovely shade of apricot-orange, which shows up well across the garden. The flowers are in the form of neatly arranged rosettes filled with many petals, which mingle to excellent effect in the centre of each bloom; the outer petals falling back and becoming paler. There is a strong, fruity fragrance of the tea rose type.

'Jubilee Celebration' – Growth habit: shrub | DA description:

We were honored to name this rose in commemoration of Her Majesty Queen Elizabeth II's Golden Jubilee. The large, domed flowers are a lovely rich pink with tints of soft gold on the underside of the petals, each bloom being elegantly held well above the foliage. Despite the size of the flowers, they are produced with exceptional freedom and continuity. The growth is vigorous, building up into a fine shrub. Very healthy and reliable. It has attractive, glossy foliage. The scent of the young flower is almost pure lemon zest, later becoming a delicious, fruity rose fragrance with hints of fresh lemon and raspberry. Excellent throughout the US including the challenging hot and humid climate of the south east.
III. How to grow edible roses organically
1. Select the best edible own-root rose varieties.
Select the best edible, own-root varieties. Ideally get roses from a breeder such as David Austin who breeds extremely vigorous, hardy rose varieties that are adapted to fend off diseases and pest insects. (See the David Austin rose varieties we recommend in the section above.)
Many modern rose varieties were bred in chemically-intensive environments and are thus highly susceptible to diseases and pests when not grown using similar practices. (Personally, we think it's insane to spray synthetic pesticides in your own yard where you, your family, and your pets live and play — and eat if you're a gardener.)
2. Use compost and mulch. 
Amend the soil with good compost or worm castings before planting. After planting, top-dress around your roses with a 3-4″ thick layer of wood chip mulch or pine straw.
3. Pay attention to first year and ongoing irrigation needs. 
During the first year as the rose plant is getting established, you'll need to make sure the plant is getting at least 1″ of water per week, if you don't get rain. After the first year, your rose plant might not need any supplemental irrigation so long as you get an inch of rain every 1-2 weeks.
4. Pre-emergent, yearly care.
Before your rose plants break dormancy in late winter-early spring, prune out any dead branches using sharp, sterilized pruners. (Click here if you need detailed rose-pruning tips.)
Top-dress a 2″ layer of compost or worm castings underneath the rose plants and then top-dress another 3-4″ mulch layer on top of the compost/castings. The previous year's mulch layer should be pretty much broken down by this point so leave it as-is before applying the new compost/mulch.
The compost + mulch serves to both feed the rose plant (biological soil fertility), suppress any pathogens/diseases in the soil, and prevent soil splash that promotes foliar diseases.
IV. Frequently asked questions about edible roses
Since we get a lot of emails and questions about edible roses, we've added an edible rose FAQ question to this article!
Which roses are edible?
The leaves, buds, petals, and hips of all roses are edible.
Even though all rose plants produce edible parts, some varieties are better than others and some varieties are bred to produce better edible rose hips or flowers.
(See sections above detailing how to use each edible part of a rose plant plus recommended edible rose varieties.)
Are roses safe to eat?
Yes! Rose leaves, buds, petals, and hips are safe to eat. Two caveats:
Food allergies – As with any new food that you've never eaten before, it may be a good idea to only consume a small amount of rose your first time out to make sure you don't experience any allergies. If you happen to be allergic to other plants in the Rosacaea family (almonds, apples, apricots, cherries, peaches, pears, plums, etc), then you may also be allergic to roses.
Pesticides – It's not a good idea to eat edible rose parts from bouquets, store bought roses, or rose plants growing in a park, etc. Why? They weren't grown with the intention of somebody eating them, and there's a very high likelihood that they have concentrated pesticide residue on them.
Are rose petals toxic to humans?
No, rose petals are not toxic to humans. As mentioned above, rose petals are edible and are made into delicacies by cultures around the world. If your child ate rose petals and you're terrified, fear not! Join them in eating rose petals, just be sure your family isn't consuming rose petals contaminated with pesticides.
---
Last thing: even if you don't want to use roses as food, they'll still provide gorgeous flowers, delightful smells, and your pollinators will love you for planting them.
We hope this article helps you grow a more beautiful edible home landscape!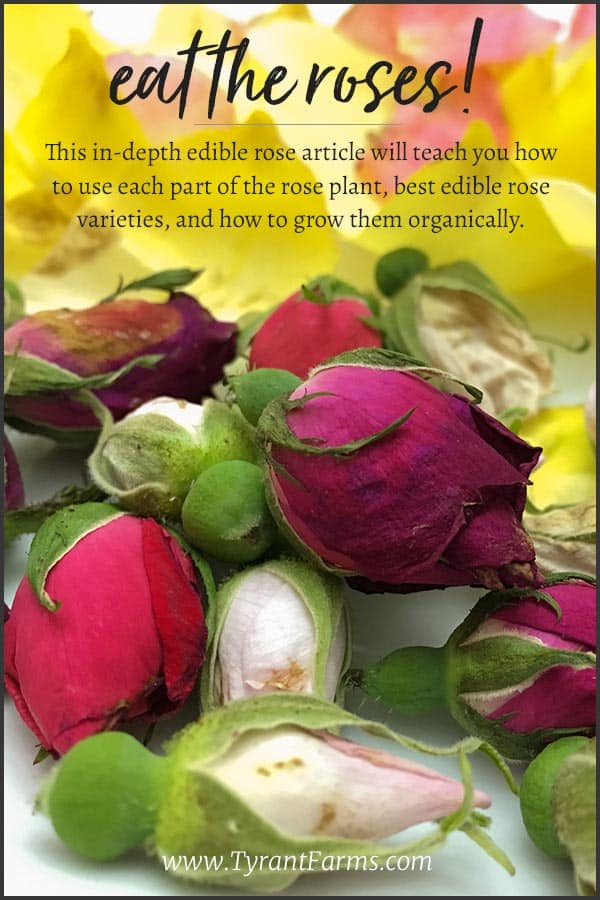 KIGI,

---
 Other edible flower articles from Tyrant Farms that you might enjoy:

Please be sure to subscribe to Tyrant Farms to see what's in-season out in nature, have fresh seasonal recipes delivered to your inbox and get helpful organic/permaculture gardening & duck keeping tips.