Tyrant Farms is reader-supported. When you buy through links on our site, we may earn an affiliate commission.
Learn more
Edible pumpkin flowers, edible pumpkin leaves, edible pumpkin flesh… If you're trying to figure out what parts of a pumpkin are edible or just want to know how to eat your Halloween pumpkin, you're in the right place!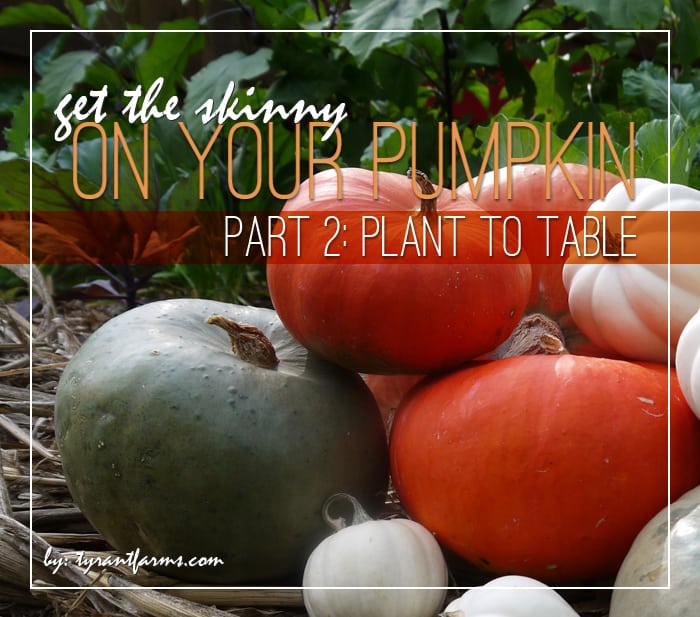 How to Process and Eat Your Incredible Edible Pumpkin
Why grow your own pumpkins? 
One of the many benefits of growing your own pumpkins instead of buying canned pumpkin from the grocery store, is that you can eat every part of the plant.
Pumpkin flowers, leaves, stems, seeds, and flesh (including pumpkin skin) are all edible. 
Why else would you grow your own pumpkins? You might enjoy growing unusual heirloom varieties of pumpkins for their unique characteristics.
Just as with tomatoes, different varieties of pumpkins offer different flavors. In fact, we grow some pumpkin varieties that are so sweet and nutty on their own, that no additional sugar is needed to turn them into pies!
We also grow varieties of pumpkins that are bred to have especially delicious seeds.
You might also want to grow your own pumpkins to ensure that they don't contain any synthetic pesticides, and that they were grown in ways that nurtured the soil, rather than degrading it.
This article is intended to be a guide to help you enjoy all the edible parts of your pumpkin, whether home-grown or store-bought. Hopefully, more Halloween pumpkins and jack-o-lanterns end up on dinner tables rather than in landfills!
1. How to Eat Pumpkin Flowers
We love eating various types of flowers from our garden, many of which are amazing superfoods packed full of nutrition. Some of the largest and tastiest flowers we grow are edible pumpkin flowers.
Pumpkin flowers have a sweet yet slightly earthy flavor. 
Since pumpkins, winter squash, and summer squash are all closely related cucurbits, we eat lots of their flowers throughout the summer.
How do you eat pumpkin flowers? 
Sometimes we munch our pumpkin flowers straight off of the plant when we're in the garden. Pumpkin flowers can also be added to salads, dipped in pancake batter and fried, or chopped and used as a garnish.
No matter how you eat them, you'll enjoy knowing that a single cup of pumpkin flowers offers the following nutritional profile:
643 IU Vitamin A
9 mg Vitamin C
57 mg Potassium
a host of other essential micronutrients to keep you healthy
Tip: If you want to eat pumpkin flowers and still get actual pumpkins, only eat the male pumpkin flowers!
Pumpkins are "monoecious," meaning a single plant will produce both male and female flowers, allowing it to reproduce without another pumpkin plant.
Bees and other pollinators use the pollen from the male flowers to pollinate the female flowers. Either: a) leave plenty of male flowers on the plant for your pollinators to do their work, or b) become a "pollinator" yourself by taking the harvested male flowers and rubbing their stamens against the female flower's pistils once you've harvested the flowers. (Sorry if that sounds a bit X-rated.)
Like other plants in the squash family, pumpkins always produce a good number of male flowers BEFORE they produce their first female flowers. This is done to attract pollinators to the plant before they put energy into producing female flowers.
Four easy ways to eat your pumpkin flowers:
eat them raw in the garden,
add them for visual interest to a salad (the petals have the same texture as lettuce),
roll them in pancake batter and cook them in a skillet like a pancake (finished with maple syrup or berries),
stuff them with goodies and fry them (here's a good recipe).
2. How to Eat Pumpkin Leaves
Yes, pumpkin leaves are edible too! In fact, they're even considered a delicacy in parts of Asia.
Pick the young-medium aged leaves (not the older tougher ones). Then use them in cooked recipes like you would spinach or a heavy winter green.
We're itching to make a pumpkin Spanakopita using both pumpkin leaves (in place of spinach) and pumkin flesh.
3. How to Prepare & Eat Pumpkin Seeds
Pumpkin seeds are a great source of protein, magnesium, copper, and zinc. The oils in pumpkin seeds are incredibly healthy for you, containing good fatty acids such as oleic acid and alpha-linolenic acid.
To harvest your edible pumpkin seeds from a typical Halloween pumpkin, simply do the following:
Slice open your pumpkin (to eat or to make as a jack-o-lantern).
Scoop out the seeds with your hands or a large, sturdy spoon. Place the seeds in a bowl. *Some pumpkin varieties have seeds with white husks over the nut meat, and some just contain the green nutmeat, aka "pepitos."
Heat a frying pan or wok on medium-high heat. Add enough high heat vegetable oil (we like organic sunflower, grapeseed, or raw coconut oil) to sauté them, depending on how many seeds you have.
Once the pan is hot, add the pumpkin seeds. *Don't worry if there is a little bit of pumpkin "guts" still attached, this cooks up fine and adds some nice flavor & nutrition.
As soon as the seeds are in the pan, add some fresh ground sea salt. Stir repeatedly to ensure light, even browning uniformly on the seeds' surfaces. Let them cool down, but eat them while they're still warm for best flavor! They'll also store for a long time and make a great, healthy alternative to potato chips.
4. How to Prepare & Eat Pumpkin Flesh (the "Meat" of the Plant)
Pumpkin flesh is healthy, delicious, and versatile. It can be used in a seemingly infinite variety of dishes (or flavoring for various drinks).
It's also very easy to turn a large pumpkin into usable pumpkin puree, freezing enough to last until the next year.
Here's how to process and eat your incredible edible pumpkin:
Turn your oven to Bake on 350 degrees.
Cut your pumpkin into chunks small enough to fit on a baking sheet. Cover the baking sheet with foil or parchment paper first so the pumpkin doesn't stick when you bake it.
Put the pumpkin chunks onto the baking sheet, skin side up/flesh side down, so that the pumpkin meat doesn't get charred.
Bake until the pumpkin flesh is soft (the amount of time it takes will vary depending on the size of your chunks and the type of pumpkin you're using). A simple test to know when it's done: you should be able to stick a fork through the biggest chunks of pumpkin without much effort.
Remove pumpkin chunks from oven, let cool, then scoop out the meat and put the skin in compost. (*We often puree our skin too since it's loaded with nutrition, so try both ways to see what you like best, which may depend on the variety of pumpkin used.)
Put the pumpkin meat in a food processor and blend it until it's smooth and chunk-free.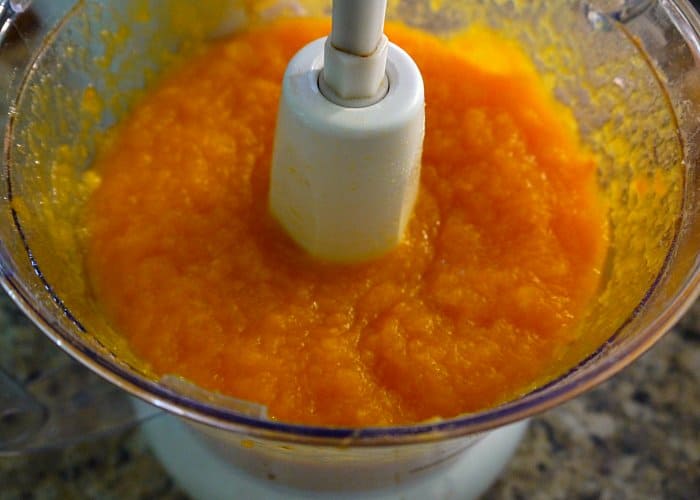 You now have fresh pumpkin puree that you can use immediately or freeze for later use in pies, puddings, breads, soups, pumpkin spice pancakes, and many other dishes.
We hope you enjoy all parts of your incredible, edible pumpkin. Remember, if you grow your own pumpkins, you can select unusual varieties for their unique culinary qualities AND eat the flowers and leaves as they grow!
KIGI
,


Please be sure to subscribe to Tyrant Farms to see what's in-season out in nature, have fresh seasonal recipes delivered to your inbox and get helpful organic/permaculture gardening & duck keeping tips.