We admit it: we're bread snobs. That soft squishy stuff at the grocery store? Not bread. That baguette made only with refined flour? Nope, not bread either.
To us, you know real bread when you interact with it. Its caramelized crust crunches when you bite into it, revealing a perfect spongey crumb on the inside that releases complex flavor notes from the high quality, stone ground wheat it was made from.
When we first built our wood-fired cob oven, we took our bread making to a whole new level. We love spending hours preparing sourdough loaves and then another few hours cooking them to wood-fired perfection in our cob oven. We usually make 1-2 months worth of bread each time we do a cob oven cook and put the loaves we're not going to eat immediately into the freezer.
Busy Lives Shouldn't Mean Crumby Bread (Pun Intended)
But sometimes we're too busy to spend hours making bread. Plus, when it's freezing cold outside, it's hard to get inspired to do an outdoor cob oven cook. You're probably in this same boat – or maybe you've told yourself: "I don't know how to bake bread, it just seems too hard."
What to do? Should we all just learn to suffer through mediocre bread with low nutritional quality? NO! We need to stand up for our right to good bread… by learning how to make Tyrant Farms' 5 Minute Artisanal Bread recipe!
Good Bread Made Easy
We're going to show you a stupid-simple way to make a delicious loaf of artisanal bread.
Nope, you don't need a wood-fired oven; you can make it at home in your electric oven. No, it won' take you hours of prep time; it will literally take you 5 minutes to prepare this bread. And when you're done, your bread will be virtually indistinguishable from the fancy loaves of bread we make in our cob oven that take many hours to prep and bake.
Once you have this recipe down, you'll never have to suffer through another loaf of squishy grocery store bread again.
How to Make 5 Minute Artisanal Bread
If you're like us, seeing how something is made is as helpful as reading about how it's made. So, we've got a quick video plus a written recipe below. Before making this recipe for the first time, we'd recommend that you: 1) watch the video, and 2) carefully read the recipe. That way, you can bring it all together in your mind.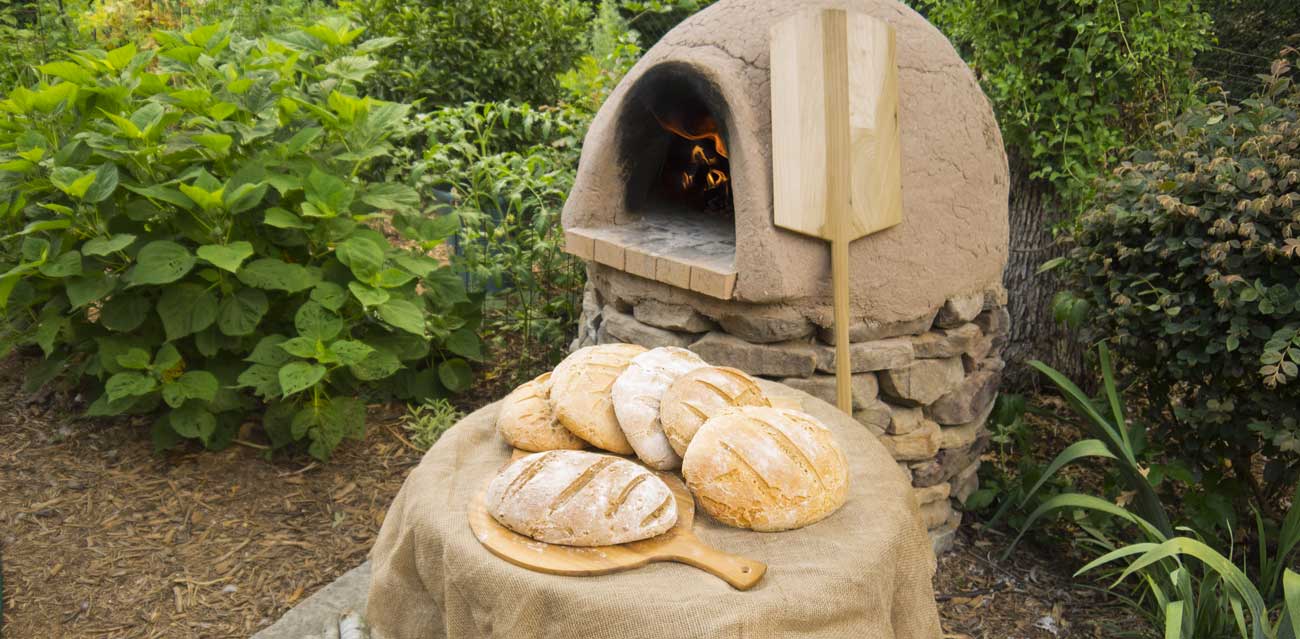 Print
5 Minute Artisanal Bread - Yes, Really
Ingredients
3

cups

24 ounces or 680 grams warm water - about 100°F (this is for the bread dough)

3

cups

ice water

this goes into the oven to create a "steam oven"

1

tablespoon

granulated yeast

1

tablespoon

kosher or sea salt

3

tablespoons

organic coconut sugar

optional, but adds a nice flavor; substitute 2 tablespoons brown sugar if you don't have coconut sugar

6 1/2

cups

2 pounds or 910 grams Hodgson Mills organic, stone ground white wheat flour (*This is the best whole grain bread-making wheat we've found - it's finely ground and made from a whole white wheat grain (it's not a refined/processed wheat). If you're using another brand of whole wheat flour that you've never made bread with before, you may want to substitute in 1-2 cups of white flour to get the same consistency.)

1/2

cup

flour

same kind to dust your loaf in the bowl and to dust your board/pan/working surface before you put the loaf in the oven
Instructions
Put yeast, salt, and sugar together in a large mixing bowl. Add in 3 cups of warm water (100 degrees is perfect - warm but not hot). Mix ingredients together with a fork.

Add 6 1/2 cups flour all at once. Mix with a spoon until no clumps of flour remain. The dough should be very sticky and moist.

Cover the bowl of dough with a tea towel or linen cloth - a thin fabric that allows the bread to breathe. Let sit for 2 hours in a warm spot. Or, if you're not going to be baking that day, you can put the covered bowl in your fridge for 24 hours.

Preheat oven to 450°F bake (not convect), in order to make sure the oven is fully heated before the bread goes in. Put your bread baking pan on the middle rack - we like to use a deep cast iron pan or cast iron dutch oven to make a boule (round loaf). On the bottom rack, put in another cast iron skillet (this is where your ice water will go to produce the steam).

Dust the surface of the risen dough with flour, and pull the dough away from the sides of the pan, dusting the surface with flour as you go. You do NOT want to knead the bread at any point, as this will take air out of the dough. You're simply trying to get it out of the bowl in one piece.

Now, pour/transfer the dough onto the surface of a lipless baking sheet or pizza peel that has flour on the surface so the dough does not stick. A cookie sheet turned upside down will work as an alternative. It needs to be lipless because you want to be able to slide the dough off into the cooking pan.

Once the dough has been transferred to the sheet/tray, let it rest for 5-10 minutes.

Open the oven, and place the dough into your baking pan. Next, pour your ice water mixture into the "steam oven" pan on the lower level of the oven. Close the oven as quickly as possible, then bake for 25-35 minutes (depending on your oven - each one bakes a little differently). Since the dough is so moist, it's hard to overcook this bread so err on the 35 minute side your first time making the bread.

Once the bread is done, remove it from the oven, being CAREFUL when you open the oven door since steam will come blasting out. Dry the bread on a cooling rack for 30 minutes, then slice and enjoy your homemade, wholegrain, artisanal goodness!
Oh, and hat tip to Leite's Culinaria for the inspiration for this bread recipe! If you have any questions, fire away in the comments below!
KIGI,

Shop Products From This Article
If you're interested in buying any of the items mentioned in this article, here's a list of affiliate products from Amazon (we'll earn a small commission when you make a purchase).


Please be sure to subscribe to Tyrant Farms to see what's in-season out in nature, have fresh seasonal recipes delivered to your inbox and get helpful organic/permaculture gardening & duck keeping tips.
Affiliate Disclosure: From time to time we may provide purchase links to products that are affiliate links to high quality products and providers. If you click on the links and purchase a product, we wanted to let you know that we'll get a small commission from the sale (it's like leaving us a tip for writing this article!). Please know that we'll never put in affiliate links to low-quality, untrustworthy items or providers. Often, we've independently bought and used the products ourselves, so we know firsthand that they're good & they're Tyrant Approved! :)