Tyrant Farms is reader-supported. When you buy through links on our site, we may earn an affiliate commission.
Learn more
Turn your homegrown tomatillos into a delicious sauce or dip using our Raw Salsa Verde recipe!
---
The first time we saw tomatillos years ago, we thought "what the heck is that?" They looked like small green tomatoes wrapped in paper.
However, the first time we tasted tomatillos (moments after the first sighting), we knew we'd found a new life-long friend.
Tomatillos are native to Mexico, where they were originally cultivated by the Aztecs. They're a staple fruit south of the border and are found in many Latin American dishes, even though they're relatively uncommon here in the states.
They're similar in shape to their well-known nightshade cousin, the tomato. Unlike tomatoes, tomatillos have an inedible papery husk that you remove before eating.
What Do Tomatillos Taste Like? 
What do tomatillos taste like? It depends how you eat them…
Raw Tomatillos – When eaten raw, tomatillos offer an acidic, tangy flavor that many describe as a cross between a granny smith apple and a tomato. We enjoy popping a few raw tomatillos in our mouths when we're out in our summer garden, but we love bringing them inside to make this raw salsa verde recipe!
Dried/Dehydrated Tomatillos – When we have a big harvest of tomatillos, we often use our Excalibur dehydrator to dry them into crunchy tomatillo chips. The concentrated flavor of dehydrated tomatillo chips is extraordinary. They're like sweet and tangy cake batter with the texture of a potato chip.
Cooked Tomatillos – Cooked tomatillos are richer and more mellow than raw tomatillos, but they're awesome for use in sauces, stews, and other Latin American recipes.
Growing Tomatillos In the Garden: Get At Least Two Plants!  
The first time we ever tried to grow tomatillos we failed miserably.
We had one giant tomatillo plant that stayed covered with yellow flowers throughout the summer, but never set a single fruit. What the heck?
After doing a bit of online digging, we realized the source of the problem: tomatillo plants are not readily self-fertile and need another tomatillo plant to pollinate with.
We've had all-we-can-eat tomatillo harvests every summer since this initial mishap simply by growing at least two tomatillo plants in close proximity to each other.
---
The Tyrant's Raw Salsa Verde Recipe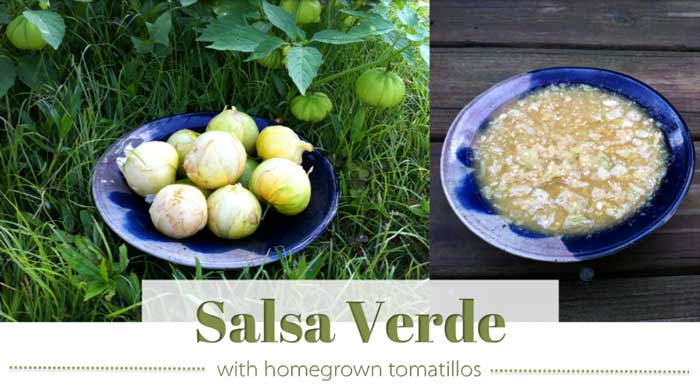 Perhaps our favorite thing to do with fresh summer tomatillos is to make Raw Salsa Verde.
We then use salsa verde on pretty much everything: a dip for blue corn chips or quesadillas, a topping for grilled fish and other white meats, etc.
If you want to make your own version of The Tyrant's Salsa Verde, here's our recipe for you to improve upon: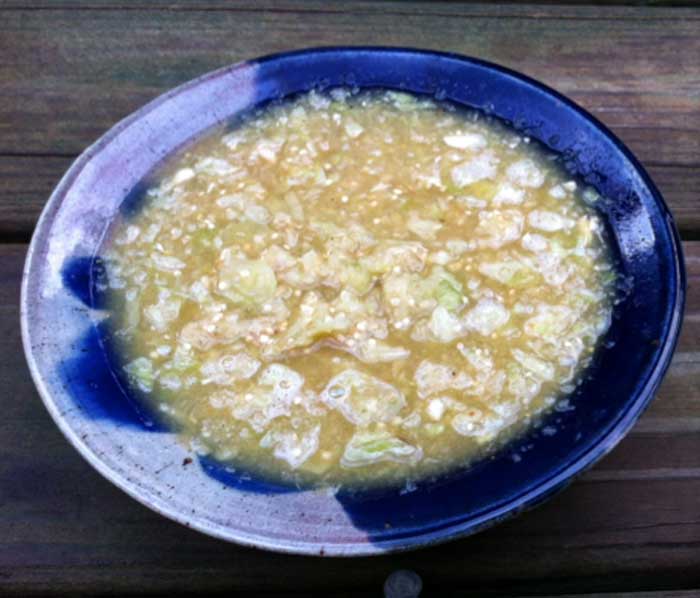 Print
Salsa Verde Recipe With Homegrown Tomatillos
Ingredients
2

cups

ripe tomatillos

1/4

cup

chopped red onion

3

garlic cloves

hard neck heirloom are best

1

chile pepper

or 1 tsp chili powder

1/4

cup

chopped cilantro

1/2

teaspoon

ground cilantro seed or 1 teaspoon fresh green cilantro seeds

1/2

teaspoon

whole toasted mustard seed

1

teaspoon

organic sugar

or 2 stevia leaves

1

teaspoon

sea salt

or to taste
Instructions
Blend all ingredients in a blender (yes, it's that easy!)

Eat as a dip, as a topping on white meats, or on top of your favorite Latin American cuisines (enchiladas, tacos, etc.)

Share with friends and family
*Note: When we posted this recipe on our facebook page, Ryan Thien suggested a great improvement: "I'd recommend a tweak to the salsa verde recipe: put a char on the tomatillos and other veg either on the grill or under the broiler of your oven. Then blend away." We haven't tried this just yet, but it sounds like a winner. Please consider Ryan's suggestion when making this recipe!
Enjoy this delicious summer treat!

KIGI,


Please be sure to subscribe to Tyrant Farms to see what's in-season out in nature, have fresh seasonal recipes delivered to your inbox and get helpful organic/permaculture gardening & duck keeping tips.