Tyrant Farms is reader-supported. When you buy through links on our site, we may earn an affiliate commission.
Learn more
---
This green tomato marmalade recipe is one of the most delicious summer recipes we make. The result is thick, sweet and smoky preserves that are versatile – and absolutely AMAZING served as an appetizer atop a creamy cheese (like brie) and crackers.
---
Everybody knows that when life gives you lemons, you make lemonade. But what do you do when life gives you unripe, green tomatoes?

Here in the south, if you have large green beefsteak tomatoes, the answer is usually to make fried green tomatoes, which can make for a delicious meal or appetizer. However, if you have lots of SMALL green tomatoes or more large green tomatoes than you can possibly fry up without giving yourself a heart attack, what do you do?
Over the years, we've had to figure out an answer to this question. Since we don't have a lot of garden beds for our annual plants (most of our growing space is stuffed full of perennials), we can't do a lot of crop rotation. And since we live in a hot, humid region that's basically a giant petri dish for every type of disease that kills tomato plants, our inability to do crop rotations has sometimes meant we suddenly lose otherwise healthy tomato plants to diseases like fusarium or verticillium.
What can you do with a bumper crop of green tomatoes?
This year, since I'm starting a farm for Oak Hill Cafe & Farm, a different problem presented itself…
My partner, Chris Miller, and I put in tomato plants and intended to put in a t-post trellis system shortly thereafter. However, other things took precedent, and before we knew it, our tomato rows were soon an impassable jungle of tomato foliage and unripe tomatoes.
Fixing this problem required four of us to spend a morning cutting tomato branches and tying up the plants to the trellis. Afterwards, we had two 5-gallon buckets full of green tomatoes of all different sizes.
That's when I knew it was time to put The Tyrant's and my recipe to work, thereby making a big batch of green tomato marmalade, a recipe we've spent years perfecting!
Taste & Timing: Green tomato marmalade with smoked paprika, brandy & vanilla
The layers of complex, nuanced flavor in this green tomato marmalade are truly out of this world. Every single person who's tried it says it's the best preserves they've ever eaten.
Chef David Porras from Oak Hill was over this morning to get some of our elderflower cordial and other goodies for a popup dinner, and we let him try some. He was so impressed that he asked for a jar to add to the dinner menu. Considering how insanely talented Chef David is, we considered that the ultimate compliment!
Recipe: Tyrant Farms Green Tomato Marmalade with Smoked Paprika, Brandy & Vanilla
Recipe Notes
As with many recipes, timing is very important. Adding something too early or too late can completely change the flavor or texture. The most important timing details on this recipe are:
Don't rush the green tomato prep – let them sit sliced in a bowl with sugar for 20-24 hours in the refrigerator, stirring every 6 hours or so (as per the instructions in the recipe below). This helps extract water from the green tomatoes and significantly improves the flavor and texture of the final product.
Wait until at least 1 hour AFTER you've started cooking the green tomatoes to add the sliced organic oranges.
You want the final preservers to be almost caramelized. By the time our preserves are done, the amount of ingredients in our pot has probably decreased by 75%, due to water evaporating. This means your preserves will have a very thick texture with intense, concentrated flavor.
Only add the vanilla and brandy at the very end. Both of these ingredients contain volatile flavor compounds that will burn off if over-cooked. We usually add them once the preserves are done and being prepped for canning.
Items that will be helpful to make this and other recipes: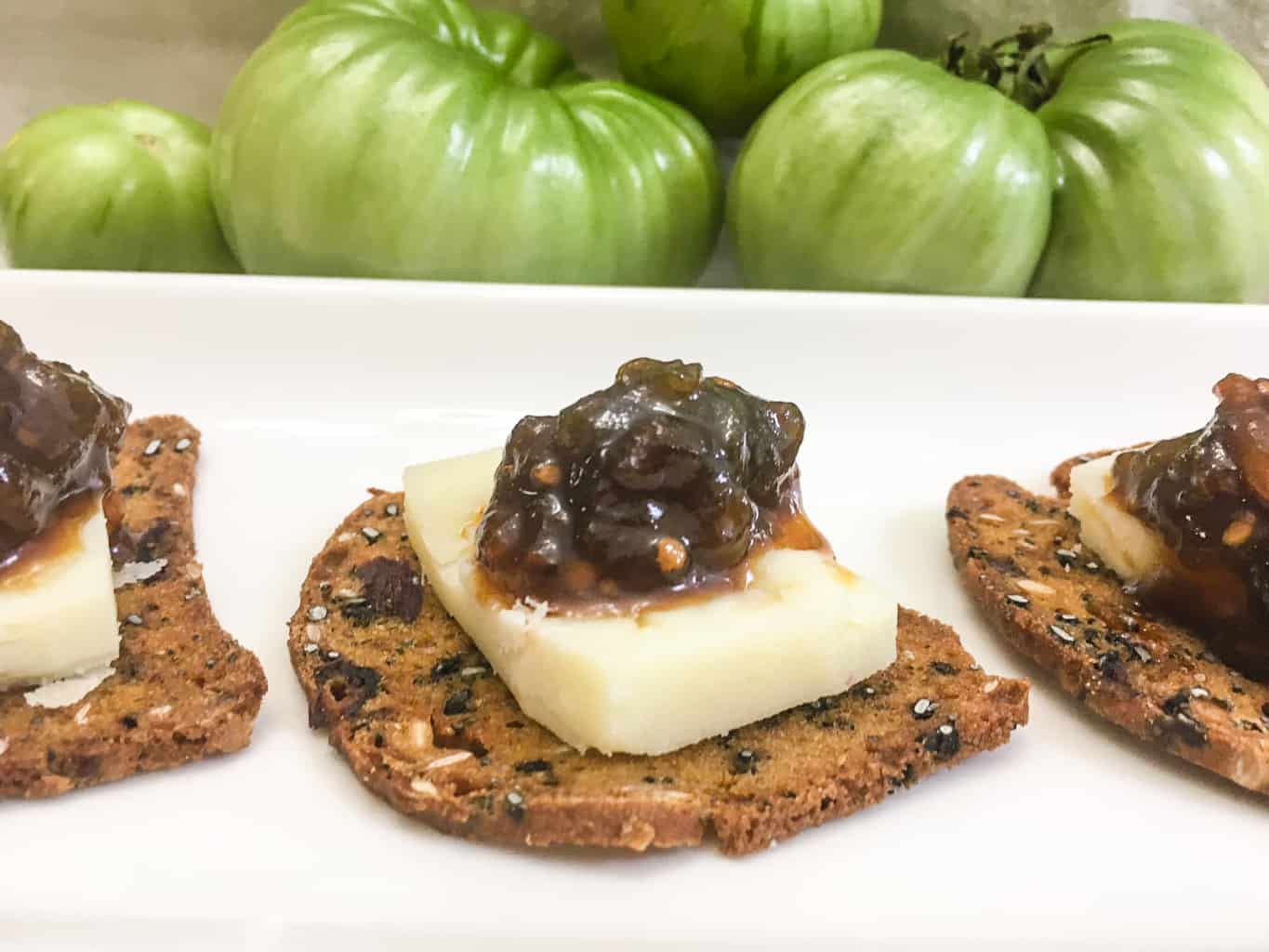 Print
Green tomato marmalade with smoked paprika, brandy & vanilla
Ingredients
26

cups

green tomatoes

sliced into 1/2" to 1" chucks (weight 8lb 6 oz)

6

cups

organic cane sugar

3

organic oranges

keep skin remove seeds sliced as thinly as possible, ideally with a mandolin

1/3

cup

lemon juice

1 1/2

teaspoon

citric acid

2

tablespoons

smoked paprika

2

teaspoons

vanilla extract

1/4

cup

brandy
Instructions
Prep
Layer tomatoes and sugar in a large bowl. Allow to macerate for 20 to 24 hours in your fridge, stirring 2 or 3 times.
Making the Marmalade (20-24 hrs later)
Put tomato-sugar mixture into a large pot. Bring to a boil, then cook at a lively simmer for one hour. Stir occasionally.

While the tomatoes and sugar are simmering, mandolin the oranges into thin slices (like you'd use in marmalade). Although, if you don't have a mandolin a sharp serrated knife — like a deli knife — will do. After the tomatoes have simmered for at least an hour, add the sliced oranges, lemon juice, citric acid, and smoked paprika to the pot and cook for another 1-2 hours, stirring often so it doesn't stick on the bottom of the pan (especially towards the end as the mixture thickens).

Once the preserves are done, add the vanilla and bourbon. Stir until evenly mixed and remove from heat.

To can: Put the finished preserves in 1/2 pint jars and process in a boiling water bath for 15 minutes or use a pressure cooker.
KIGI,

Please be sure to subscribe to Tyrant Farms to see what's in-season out in nature, have fresh seasonal recipes delivered to your inbox and get helpful organic/permaculture gardening & duck keeping tips.