Tyrant Farms is reader-supported. When you buy through links on our site, we may earn an affiliate commission.
Learn more
We'll give you the details of this amazing pawpaw recipe in a moment, but we first we'd like to invite you into a world of food that you might not be familiar with yet…
One of the many reasons we love gardening and foraging is because we love new culinary adventures. In our garden and surrounding forests, each month and season brings forth new and interesting foods, most of which we'd never be able to find at grocery stores.
Chicken of the woods, indigo milkcaps, and king stropharia mushrooms; hickory nuts and acorn flour; heirloom watermelons; ground cherries and garden huckleberries; unusual varieties of citrus... By growing and foraging many of the foods we eat, we get exercise, ecological education, and meals unrivaled by any local restaurant.
Pawpaw: America's Forgotten Fruit
About a decade ago, one of our friends told us about a native fruit that looked and tasted like a mango but had the creaminess of bananas. It was supposedly called a pawpaw and it was the largest native edible fruit in North America.
What? How could this be true? Surely, we'd have known about this magical fruit or encountered it during a foraging adventure. It must be a folk legend, like Big Foot or Lizard Man or Lizard Foot. (Ok, we just made up Lizard Foot, but it could be real.)
As it turns out, the legend is in fact real. Pawpaws (Asimina triloba) exist, they can be the size of mangoes, and their taste is amazing. What do they taste like? Tropical fruit custard. Is there a go-to pawpaw recipe out there? Not really, and probably because most people can't resist eating them raw (we sympathize).
Once we knew what the plants looked like, we realized we had in fact seen pawpaw trees out in the wild. The trees are abundant in the low lying flood plains at our favorite morel mushroom foraging spots, and we see them blooming in March when we're out foraging morels. We don't go back to those spots in late summer when pawpaws are actually producing fruit since morels are long-since gone.
Growing and Harvesting Pawpaws
After tasting our first pawpaws years back, we decided we had to incorporate these native wonders into our forest garden. We now have about ten pawpaw trees, and three of them started fruiting for the first time last year. If you grow pawpaws from seed, you'll get fruit within 5-7 years. It's also important to note that they'll send out runners, creating clonal colonies if you let them. However, you can keep these runners cut back so that you just have one large pawpaw tree in a designated spot, instead of a dense thicket. At full maturity, pawpaws, can reach 30′ in height.
When do pawpaws get ripe? It depends on where you live and what variety of pawpaw you're growing. We're on the outskirts of Greenville, SC, in Ag Zone 7B. Our first pawpaw fruits ripened during the third week of August. Another variety we have still looks to be about two weeks away from producing its first ripe fruit.
An important thing to note: don't pick the pawpaw fruit from the tree. Instead, let them ripen and fall to the ground for the best flavor. I learned this the hard way last year when I got a little over-eager and picked some fruit from the tree when I thought they were ripe. The taste wasn't very pleasant, and The Tyrant nearly divorced me upon discovering the mistake I'd made.
The skin of the fruit is bitter and much thinner than mango skin (apparently, the skin's flavor keeps critters from eating the fruit). Our favorite way to eat the fresh fruit is to cut it in half and use the skin as a bowl, scooping out the soft flesh by the spoonful. The large seeds are very easy to separate from the fruit flesh while eating.
If you're like us, you'll want to save the largest seeds from the biggest, best-tasting pawpaw fruit to plant. Since we've run out of room in our own garden, we've started guerrilla gardening the seeds close by in easily accessible areas that aren't likely to be developed or sprayed by pesticides. They won't germinate immediately since they seem to require cold-stratification, e.g. they need to be overwintered in freezing temps before germinating in the warmer weather of spring. (You can put the seeds in the freezer for a month if you're trying to germinate them after winter has passed.)
Since pawpaws are a native tree, you're not introducing an invasive species if you plant them in the wild. Instead, you're helping to rebuild native forests with trees that are host plants for countless species, including Zebra swallowtail butterflies whose caterpillars can only feed on pawpaw leaves. Your reward for such enlightened stewardship? Delicious fruit.
Pawpaw Recipe: a Summer Sorbet Like No Other
Other than eating them fresh, there are plenty of other things you can do with pawpaw fruit. Breads, puddings, popsicles, adult beverages, smoothies… experiment as you see fit.
We recently had friends over for dinner and made our pawpaws into an unforgettable summer dessert: pawpaw passionfruit sorbet. We have an abundance of native passionfruit (Passiflora incarnata) growing in our forest garden, and their fruit begins ripening at the same time as pawpaws. We thought their tangy flavor would round out the sweet custardy flavor of pawpaws, and thus this pawpaw recipe was born!
We also picked a fresh variegated lemon from one of our citrus trees and made a simple syrup from our makrut lime leaves to add more citrusy punch.
In our pawpaw recipe below, we'll give you an alternative in case you don't have a makrut lime tree or leaves.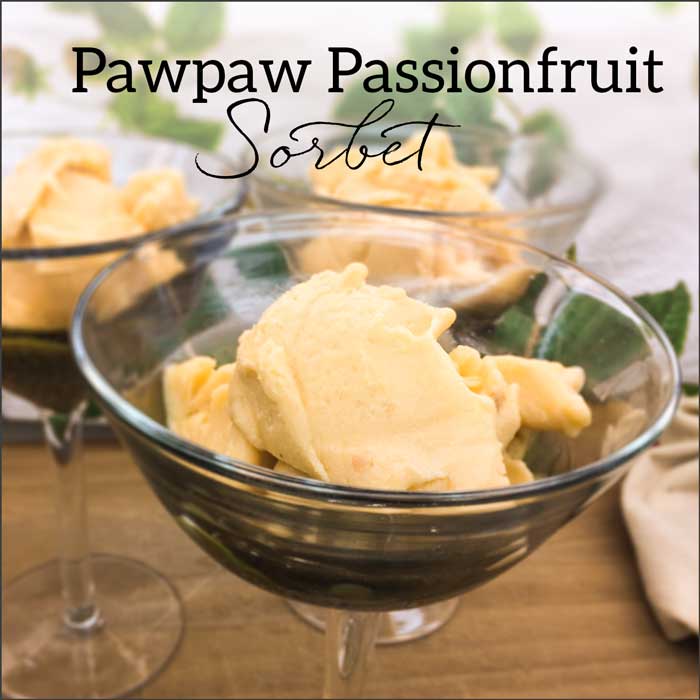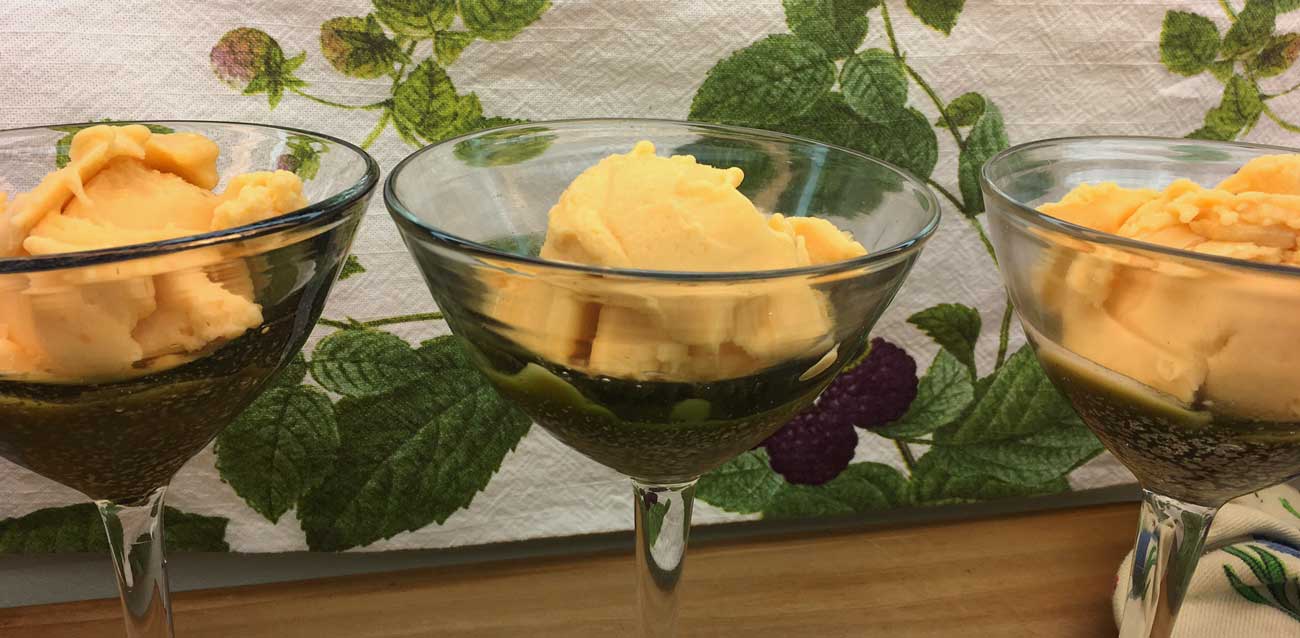 Print
Pawpaw passionfruit sorbet
Ingredients
1.5

cup

pawpaw pulp

no seeds

4

ripe passionfruits

1

lemon

3

makrut lime leaves

alternative: 1 heaping teaspoon fresh lemon zest, Meyer lemons or Buddha's hand citron are best for zest

1/2

cup

organic cane sugar

1/2

cup

water
Instructions
Separate seeds and remove flesh from enough pawpaws to make 1 cup of pulped fruit. Put in fridge to chill.

Remove skin from ripe passionfruit and place seeds in saucepan with 1/4 cup water and 1/4 cup cane sugar. Cook on medium low heat (not boiling) for about 15 minutes, stirring occasionally. Remove from heat, strain seeds, and place in fridge or ice bath until chilled. *If your pawpaw pulp is chunky, you can pour your finished passionfruit mixture into the pawpaw pulp and blend it with an emersion blender or food processor before chilling it in the fridge.

To make the makrut lime leaf simple syrup: dice three fresh leaves from a makrut lime tree (also called "kefir" limes, but that's a culturally offensive term). Place in saucepan with 1/4 cup water and 1/4 cup cane sugar. Cook on medium low heat for about 15 minutes (not boiling), stirring occasionally, Remove from heat, strain leaves, and place in fridge or ice bath until chilled. If you don't have makrut lime leaves, use a heaping teaspoon of lemon zest to make a simple syrup, but do not strain out zest after prepared.

Juice one lemon, then chill in fridge.

Once all ingredients are chilled, stir together in mixing bowl. Use food processor or emersion blender to get smooth, uniform consistency.

Add ingredients to Cuisinart sorbet/ice cream maker, and let the magic happen. Serve immediately once the desired consistency has been reached, or store in freezer and serve whenever you're ready.
Where to Buy Your Own Pawpaw Trees or Seeds… and a Sorbet/Ice Cream Maker
Want to grow your own pawpaws? If you can't find seeds or saplings at your local plant nursery:
Want to make your own sorbet and ice cream out of your own fresh ingredients? We've enjoyed this Cuisinart for five years, and it's only about $40. Oh, and if you make soups, sorbets, pies, and sauces a lot, we we HIGHLY recommend you get an immersion blender – they'll save you a ton of time and effort in the kitchen.
We hope this article was interesting and helpful!
KIGI,

Related Tyrant Farms' articles you'll enjoy:

Please be sure to subscribe to Tyrant Farms to see what's in-season out in nature, have fresh seasonal recipes delivered to your inbox and get helpful organic/permaculture gardening & duck keeping tips.