Tyrant Farms is reader-supported. When you buy through links on our site, we may earn an affiliate commission.
Learn more
updated January 2019
Got ducks? Great! This duck health guide should come in handy…
As with any pet or production animal, there's a good chance that your feathered family members will get sick or injured at some point. This resource guide is intended to help you figure out what's wrong, what to do next, what items you should plan to have on hand at all times as a responsible duck parent.
Prevention: Top 5 Ways to Prevent Duck Injuries & Illnesses
Of course, the best treatment for virtually any duck health or medical condition will always be prevention. It's much easier to keep a biological organism healthy than it is to fix it once it becomes sick or injured.
In our experience, the five best ways to prevent a duck from getting injured or acquiring an illness are:
1. Provide a healthy, balanced waterfowl-specific diet, which we've written about here.
2. Directly related to diet, we'd encourage you to adopt our "duck philosophy": produce the healthiest possible ducks, not the most possible eggs. Egg production takes an enormous amount of energy and nutrients out of a duck's body, so if you want to have long-lived, happy, healthy ducks with low medical costs and death rates, focus first and foremost on your ducks' health.
3. Provide clean water for them to swim in daily. Chickens take dust baths, ducks take water baths, which help with feather health, overall hygiene, and prevent mites. Read about our DIY pond with biofilter. Having a year-round source of clean, moving water made a big difference in our ducks overall well-being.
4. Keep their coop bedding fresh and topped up (we use a deep litter method) so they're not standing around in soggy bedding or their own waste. We use large pine shavings for our outdoor birds, and aspen shavings when we have to bring one indoors. It's dust-free, so much better for in-home applications.
5. Provide a run/foraging area with clean, non-course surfaces. Ducks are clumsy walkers with big flippers, so rough granite, thick chopped mulch, rough concrete, etc will increase the likelihood of foot/ankle injuries and infections. We recommend finely ground mulch, shredded leaves, or straw as a covering over the ground in the areas where your ducks spend the most time (wet, poopy mud is going to attract parasites and anaerobic bacteria).
The Duck Health Guide: Treating Duck Health Issues
The importance of being prepared for animal injuries BEFORE you need to became evident to us a few years back.
Our cat, Oscar, sauntered into the den with a burst abscess on his back (yes, it was absolutely disgusting) and we not only had to hastily research what type of wound care is safe to use on cats, but we also had to run out to Walgreens in 5:30 rush hour traffic to get everything we needed.
It was a mess. Since then we've always kept a basic animal-safe first aid kit on hand and it has served us well.
Part 1: Items you should have in your ducks' first aid kit or provide as dietary supplements:
Probiotics, Vitamins & Minerals
Things to help with Toxins
Toxiban: Toxiban is a kaolin clay and activated charcoal-based suspension intended for use as an adsorbent of orally ingested toxicants. It is highly effective in treating accidental animal poisonings. Read more about it here.
Activated Charcoal: A little less expensive than Toxiban and easy to add to their drinking water. Also great for the human first-aid kit when you're nursing an upset stomach (or hangover).
Milk thistle: Our avian vet has seen amazing results from milk thistle supplements. In fact, she's seen severe liver damage completely reversed (the silymarin compounds are what works magic). Milk thistle capsules | Alcohol-free milk thistle tinctures (NEVER give a duck alcohol)
Wound Care
Antibiotics, NSAIDs & Medications
Children's Benadryl (Diphenhydramine): Used in treating anxiety, nausea (i.e. if you have to transport your birds) and allergic reactions – like sticking a hornet under your tongue. I'm looking at you Jackson (see photo above)! Very important: Do not use grape. Our vet told us either the dye or the flavoring used in the grape is dangerous to fowl.
Metacam (meloxicam)

requires an RX from a vet

: Excellent non-steroidal anti-inflammatory (NSAID) that helps control pain and inflammation. We most often use it to assist with egg issues, pain & swelling due to injury, allergic reactions, etc…
Clavamox (human equivalent: Augmentin or Amox-Clav)

requires an RX from a doctor or vet

: A broad spectrum antibiotic, a combination of amoxicillin and clavulanic Acid, used for infections caused by bacteria. First line antibiotic used to treat Pasteurella, the bacteria in animal (mostly cat) bite wounds that can kill birds. We put this here because it's a common antibiotic that people have in their medicine cabinets and it's good to know that it does have an important animal use. Before you give your birds any antibiotic you should always check with your vet.
Ciproflaxacin Drops (Brand: Cipro and Ciloxin)

requires an RX from a doctor or vet

: A flouroquinolone antibiotic, used to treat nare infections caused by bacteria. We put this here because it's a common antibiotic that people have in their medicine cabinets and it's good to know that it does have an important animal use. Before you give your birds any antibiotic you should always check with your vet.
Avian Medicine – Reference Formulary with a helpful list of all avian-safe drugs & doseages.
Supplies
Part 2: Prescription Medications – Saving You Money
Unfortunately, our feathered friends get sick (like go to the doctor and get some medicine, kind of sick). Unlike with humans, there are zero comprehensive insurance options available for birds. Trust me, we've looked. So, we've recently (Oct 2018) updated this section in our Duck Health Guide to include navigating more serious healthcare issues.
When Svetlana was diagnosed with Aspergillosis, not only was it completely terrifying, but the treatment plan typically lasts 2+ years and involves several expensive medications (administered twice a day!): And antibiotic: Augmentin (Amoxicillin / Clavulonic Acid) and an anti-fungal: Sporonox suspension (Itraconazole) or Vfend (Vorconazole).
While Augmentin is available as a generic, the dose we needed her Sporonox in was only available for children in suspension form, and wasn't available as a generic. There is a generic adult-dosed pill, but there is no way to break it down to ensure even dosing for a duck.
Point being, all of her prescribed medications are also used to treat people so we were able to take advantage of a few resources that help us humans purchase our medications more affordably. Below are 4 tips that helped us save a ton of money.
Tip 1: Those pharmacy discount cards are your friend. GoodRx saved us so much money.
Just download the app, type in the medication name, and show the scan card to your pharmacy. These work great if the drug you need is out-of-patent, meaning it has a generic equivalent.
The retail price for the antibiotic below is ~$250, so $73 is a (relative) bargain. We ultimately ended up finding a way to get our Augmentin (Amox-Clav) much cheaper (<$30), which brings me to tip #2…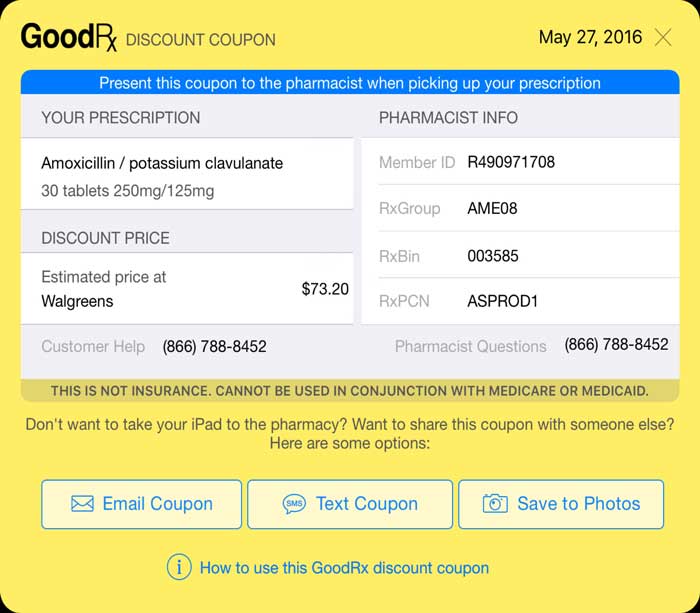 Tip 2: Make friends with your pharmacy staff & don't be afraid to ask if they know of any discount programs. We'd often go pick up Svetlana's drugs in the evening when the pharmacy at Walgreens was less busy.
Most of the time we'd bring her with us, so our pharmacy staff was able to get to know her. She always wore a diaper, so we were never concerned about "messes" – please don't take an undiapered duck anywhere, let alone somewhere with sick people.
Any time we'd get her Augmentin (or any other rx) filled they'd do a quick search through various programs and promos to make sure we were getting the best price possible. We were able to get the <$30 price because of a new program (at the time) that had been sending out literature to pharmacies and our pharmacist made a note on our account for the next time we came in.
Side note: It's surprising to us how few people noticed that we were walking around Walgreens carrying a duck. The observant ones who did were always tickled. One woman thought she was going crazy and did a few double takes until I finally said, "You aren't imaging things, this is a real duck." 🙂
Tip 3: Call around to a few compounding pharmacies. The one we used had a veterinary pharmacist on staff who worked with the Charleston Aquarium. She was super helpful and was able to put together Svetlana's Sporonox Rx (Itraconazole) so much cheaper – like a few hundred dollars cheaper.
We ended up not using them long-term because she'd been taking the suspension form for a while and it wasn't recommended that we switch to pills (that's all the compounding pharmacy could put together in a highly bioavailable form).
Tip 4: Go to Canada. There is no generic equivalent available for Sporonox suspension, which is why GoodRx couldn't get much of a discount for us. The raw ingredient, Itraconzole, isn't in-patent, only the suspension delivery method, which is why the compounding pharmacy could help. This is the Canadian pharmacy we used and had an excellent experience with.
All financial assistance programs offered by the manufacturer (Johnson & Johnson) are only offered to humans. This seems to be where Canada is really able to fill the gap.
When the compounding pharmacy wasn't able to put together a highly bioavailable oral suspension, and the price at Walgreens was still enough to make us vomit even with the discount card, my mom suggested we try Canada. The Canadian Pharmacies were able to save us 70% – more if we ordered a few bottles at once!
Canada only ended up being cheaper for the Sporonox because we had to buy the brand medication; the Augmentin (Amox-Clav) was competitive with GoodRx, but was still cheapest through our pharmacy because of their amazing staff.
Tip 5: Try Costco
Costco is sometimes much cheaper than any other pharmacy, and you don't have to be a member to buy a prescription from them! Our vet wanted to try Vorconazole – Walgreens was going to charge us $300, costco gave it to us for $45. When we were calling around to check prices, we asked the pharmacy tech to repeat herself, then verified at least two more times before getting off the phone because it was so much cheaper than anywhere else we had found.
Thankfully our vet had dealt with this before in one of her own ducks, so she knew exactly how to treat it – very aggressively.
Using those resources, we were able to get 3-4 months worth of meds for about what we paid for 1 single month when she was first diagnosed.
Part 3: Where to Get Duck Diapers & Shoes
Duck diapers… I know it sounds crazy. When we first saw them on Etsy 5 years ago, we thought the whole world had gone hilariously mad.
Fast forward to 2018 and we can't imagine having ducks without our duck diapers. Even if your ducks are primarily outdoor animals, it makes treating any injury or illness that requires you to bring them indoors so much simpler. Think of diapers as insurance for your floor, your upholstery, your curtains, your towels, etc.
If you have a sick or injured duck that requires indoor "house rest," or if you just want to occassionally bring your favorite bird inside for movie night, duck diapers come in handy. Duck "shoes" are really helpful in dealing with bumblefoot or foot injuries, and they're part of our first aid kit.
Party Fowl – Open Toe Duck Shoe: We've found that it is far easier to spray the affected flipper area with Vetricyn and put a shoe on, than it is to wrestle a bird onto it's back for five minutes while you wrap it's little flipper in vet tape (a non-adhesive bandage that you wrap the foot with that sticks to itself).
Party Fowl Duck Diapers: Nettie at Party Fowl makes extremely high quality items that stand up to all the abuse our ducks throw at them.
Part 4: Avian & Poultry Vets
We highly recommend using an avian/poultry vet if at all possible. If you happen to live in the Upstate region of South Carolina, we love HealthPoint Veterinary Clinic in Duncan, SC.
Dr. Hurlbert has ducks of her own, so you know your birds are being treated by someone who knows waterfowl well. She also comes highly recommended amongst wildlife rehabbers and other area vets (as we found out when we were calling around trying to find someone who treats birds).
If you are not local and need to find a certified avian vet, use Avian Vet Finder.
Part 5: Egg Binding & Reproductive Tract Issues
Signs of Egg Binding
rapid or labored breathing
lethargic
pelvic area will feel like a hard mass, or you can actually feel the egg that is bound
swelling
constipation
fluffed up feathers
straining/tail-pumping
feces contain egg yolk could mean egg perionitis
This is a very uncomfortable and often painful condition for birds. If you notice your hen experiencing signs/symptoms of egg binding, please consider seeking medical attention.
Our vet bill ran almost $300, which is very reasonable considering we had her tube fed, x-rayed, an extensive blood panel done and were given 2 medications + oral calcium. Each time our girls have had a problem (unfortunately it happens more often than we'd like, given the nature of birds bred for the sole purpose of egg production), we've administered 2mL calcium & 0.7mL Metacam BID (amts determined by overall weight), and the egg has always emerged within 1-2 days.
Part 6: Other Helpful Links & Resources
Diagnostics
Majestic Waterfowl's Diagnostic Chart: If your birds are ill, start here. Very helpful in narrowing down illnesses based on symptoms. There is also a wonderful book written by the founder/president of Majestic Waterfowl Sanctuary that you NEED to buy if you plan to get pet ducks. You can find it here on amazon.
Legs & Feet
Poultry Podiatry: Really good link on dealing with feet and leg issues. Everything from penicillin injections to dealing with splayed legs to housing issues.
Part 7: Recommended Reading:
Kindle links (where available) are provided in addition to book links. A lot of times it's easier to use a kindle when you're searching for a symptom or a specific topic that may not be included in the index.
Download Kindle for iPad, Computer, etc…
Books
Veterinary Textbooks
I really like to understand what's happening to my girls when they are sick, how the illness will progress and what to expect as they get better. I also like to have an idea of general treatment protocol.
The internet is a great place to find tons of info, but all you usually find are halfway educated guesses and the suggested treatments are often not supported by veterinary science. We have too much invested in our small flock to throw darts, so we use a vet and I read a lot of veterinary textbooks.
I'd imagine texts like these could also be helpful if you live in a rural area where there are no avian vets but there are general vets that are willing to see your birds & help with diagnoses. We own both of these books in the kindle format and I do recommend them.
Backyard Poultry Surgery & Medicine: A wonderful textbook written for small animal vets, but has proven very useful for us in understanding illnesses in our own flock. Highly recommend. kindle edition
Clinical Veterinary Advisor: Birds & Exotic Pets: From the amazon listing – Concise summaries of hundreds of common medical problems help you consider differential diagnoses, recommend diagnostic tests, interpret results mindful of unique species differences, utilize important concepts of species-specific husbandry and nutrition, prescribe treatments, and provide follow-up care. kindle edition
We hope you found this duck health guide helpful! If you have any questions about your feathered family members, please ask them in the comments section below!
KIGI,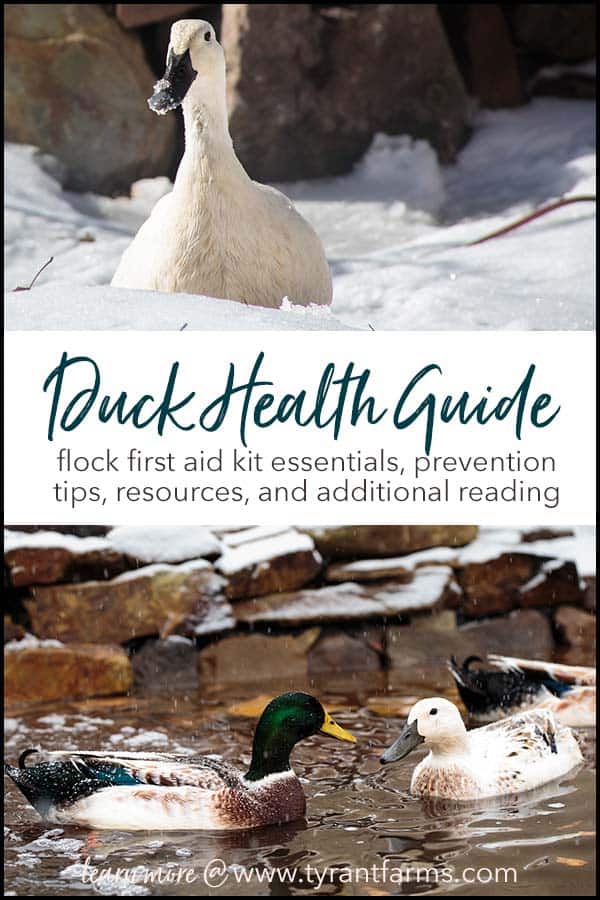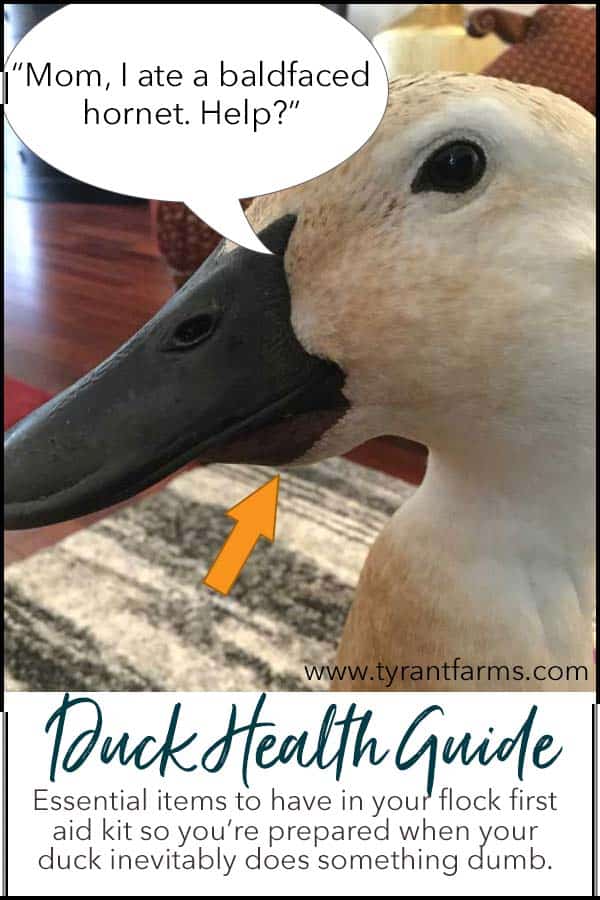 Some of Our Favorite Duck Products
This list does contain affiliate links which means we'll earn a small commission when you make a purchase – this commission helps offsets the costs of producing & serving quality content. 🙂

Tyrant Farm's Other Duck Articles

Please be sure to subscribe to Tyrant Farms to see what's in-season out in nature, have fresh seasonal recipes delivered to your inbox and get helpful organic/permaculture gardening & duck keeping tips.