Tyrant Farms is reader-supported. When you buy through links on our site, we may earn an affiliate commission.
Learn more
Bicolor bolete mushrooms are one of our favorite summer fungi — and one of the few wild-foraged mushrooms we know of that pairs well with red meat. Find out how to locate, identify, and eat this summer delicacy!
---
Warning: Before reading this article, note that there are lots of wild mushrooms and plants that can kill you or make you very sick. There are also poisonous lookalikes to bicolor bolete mushrooms, some of which we highlight in this article. As we detail in our Beginner's Guide to Foraging, you should never eat anything you're not 100% certain you've correctly ID'd AND you're not 100% certain is edible.
---
Introducing boletes: A fun fungi family
Boletes (Boletaceae) are a large family of fungi that can be found around the world. They're particularly beloved by mushroom foragers due to their many edible species — although there are also poisonous boletes to be cautious of.
Most bolete family fungi are easy to spot due:
their classic cartoon mushroom shape (large round cap attached to single stems), and
lack of gills.
Instead of gills, the underside of a bolete cap looks like a fine-pored sponge; millions of spores emanate from these structures on mature mushrooms. Spores are to mushrooms as seeds are to plants.
There are a few bolete species that don't have gills, such as gilled boletes (Phylloporus rhodoxanthus), which are also an excellent edible mushroom.
Perhaps the most famous of all boletes is the King bolete, aka porcini (Boletus edulis). Unfortunately for us, porcinis don't grow natively in our area, Greenville, South Carolina.
However, there are plenty of other commonly found, edible bolete species that grow abundantly here. Our personal favorite: bicolor boletes (Baorangia bicolor).
What do bicolor boletes taste like?
While we sometimes see them described as relatively tasteless, we find bicolor boletes to be a choice edible. They have a distinct yet subtle meat-like umami flavor.
Alhough some sources say boletes, in general, can be eaten raw, we highly recommend cooking bicolor boletes before eating them. As Paul Stamets notes, the cell walls of mushroom are comprised mostly of chitin, making mushrooms indigestible prior to cooking — and making the nutrients inside the cells unavailable.
Bicolor boletes are one of a handful of wild-foraged mushrooms in our area that we think pairs well with red meat, without having their flavor overwhelmed or eclipsed by the meat. Another mushroom that falls into the "pairs well with red meat" category that fruits at the same time as boletes is Lactifluus volemus, which we know by the common name Bradley lactarius. (We'll write more about this species soon.)
When to find bicolor boletes
Boletes are a heat-loving fungal family. We're in Agricultural Zone 7b at the base of the Blue Ridge Mountains in Greenville, SC. The earliest we ever see bicolor boletes fruiting in our area is the beginning of June, but it's usually mid-late June after chanterelles have already started fruiting.
Depending on how warm (and wet) of a late summer/early fall we're having, we may find bicolor boletes fruiting all the way into early October.
Thus, bicolor boletes — like all boletes — are considered summer mushrooms.
Where to find bicolor boletes
Bicolor boletes can be found on different continents around the world. In North America, their range is pretty much everywhere east of the Rocky Mountains and all the way south into northern Florida.
Unlike many other edible gourmet mushrooms which you can grow at home, bicolor boletes can only be foraged, not cultivated.
They form symbiotic, mycorrhizal relationships with various hardwood trees, which is why they're quite common in hardwood forests. The fungal organism actually lives below ground in association with tree roots.
This relationship vastly expands a tree's ability to source nutrients and water from surrounding soil by many orders of magnitude since the fungal hyphae operate as a secondary root system.
In exchange, the tree provides the boletes with carbohydrates it generates via photosynthesis. The bicolor bolete mushroom you see and eat is the fruiting body of this giant, tree-friendly organism living beneath your feet under the forest floor.
In our area, bicolor boletes seem to most commonly associate with oak and beech trees. Oddly, our family in lowstate South Carolina has found bicolor boletes living in association with pine trees, although it's possible they were finding other edible bicolor bolete subspecies/varieties or one of the other genetically distinct edible bolete species that's visually identical to bicolor boletes.
How to identify bicolor boletes
So it's summer (check), you're out in a forest with plenty of deciduous trees around (check), and you spot a mushroom that you think might be a bicolor bolete. What are the next steps you need to check off the list to positively ID your new fungal friend as a bicolor bolete?
Below are physical characteristics of bicolor boletes you can use to make a positive ID:
Size:
Bicolor boletes have the best, dense meaty texture and flavor when they're relatively small, about 3-4″ tall. They can grow quite large under ideal growing conditions (lots of rain and shade of forest canopy). We've seen bicolors grow to 6″ tall with caps 6″ wide.
At the large size end of the spectrum, the pores tend to become a bit spongy and insects have begun to degrade their quality. They're still perfectly edible, but better dehydrated and turned into powdered mushrooms for soup and sauce flavoring.
Cap texture and color:
Bicolor boletes have a smooth cap surface and a cherry to brick-red cap coloration.
Pore surface:
The underside of a bicolor bolete cap is pored, not gilled. The pore surface is yellow.
When you press on the yellow pore surface of a bicolor bolete, the spot will bruise blue.
Stem characteristics:
Bicolor boletes' stems are smooth and thick, often somewhat bulbous when young.
There is some stem color variation and the color can change slightly as they age. However, the stems are always some combination of yellow and red.
More often than not in our area, the stems are more red towards the base with yellow coloration increasing as the stem approaches the pore surface.
Spore print:
If you place a bicolor bolete pore-side down on a dish or piece of paper, it will produce an olive brown spore print after a few hours.
Cut test:
We call it the "cut test," and it's perhaps the single most important identification test you can undertake with a bicolor bolete.
When you slice into a bicolor bolete stem or cap, it will bruise blue slowly rather than flushing blue immediately. Sometimes, they won't bruise blue at all.
Bicolor boletes have POISONOUS lookalikes
It's very important to note that bicolor boletes do have some poisonous look-alike. Boletus sensibilis is the most common of these lookalikes and is considered mildly poisonous.
Boletus sensibilis fruits at the same time and in association with the same trees as bicolor boletes. They are often nearly visually identical as well.
So how do you tell Baorangia bicolor and Boletus sensibilis apart? The cut test.
Boletus sensibilis flushes blue immediately when you administer the cut test. Bicolors bruise slowly or not at all.
How to eat bicolor boletes
As mentioned previously, bicolor boletes have a wonderful umami flavor and meat-like texture. Only eat them cooked, not raw.
Lots of recipes call generally for "mushrooms." This usually means white button mushrooms or portobellos, which are actually the same species (Agaricus bisporus) at different stages of maturity. You can use bicolors instead, so long as it's a cooked mushroom recipe.
Also, since a small percentage of the population is going to be allergic to pretty much any food imaginable, it's a good idea to only eat a small amount of bicolor boletes your first time to make sure your body doesn't have a negative reaction. (We'd also give the same advice to someone eating common foods like peanut butter or eggs for the first time.)
We'd also advise you to make bicolor boletes as simply as possible the first time so you get to know their flavor. This will help better inform your decision about how to use them in the kitchen in the future.
Here's a simple recipe to cook bicolor boletes the first time: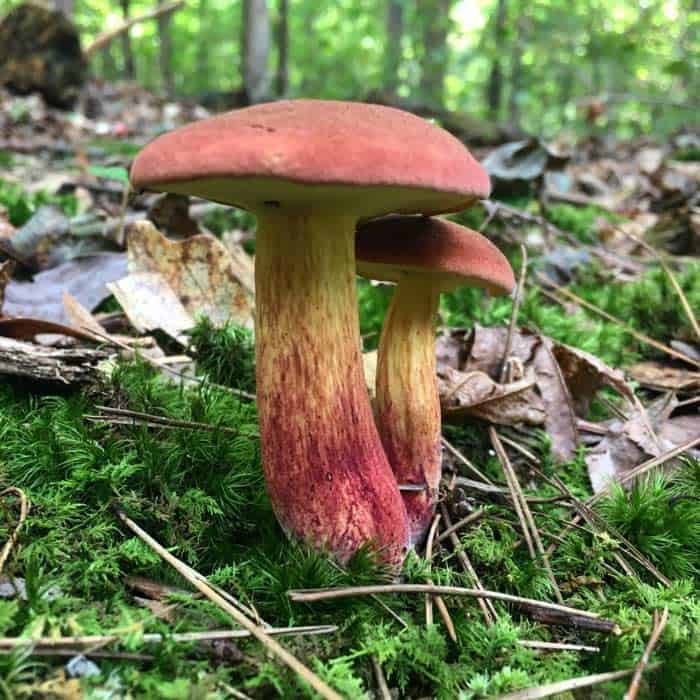 Print
Sauteed bicolor bolete mushrooms
A simple beginner recipe to help you gain an appreciation for bicolor bolete mushrooms' flavor.
Ingredients
bicolor boletes, sliced into 1/4" pieces

white or yellow onions, diced

grass-fed butter

water

sea salt
Instructions
Slice boletes into 1/4" pieces then place them into a sauce pan with 1/4 the quantity of diced white or yellow onion. For instance, if you have 2 cups of sliced boletes, use 1/2 cup diced onions. 

Add enough water to the pan to just cover the surface of the ingredients. For each cup of boletes you have, add 1 tablespoon of grass-fed butter plus 1/4 teaspoon of sea salt. 

Turn stove to medium heat. Let water cook out; as water evaporates, the mushrooms will cook but any flavor lost will be reabsorbed into the mushrooms as will the salt. 

Saute the boletes until lightly browned, then serve. Now you have a basic idea of what bicolor boletes taste like and can use them in more dishes!
You can also dress up the above recipe on future attempts by adding a splash of red wine as the water is reducing, and herbs like thyme and rosemary. This would be the perfect topping or side for a fancy homemade grass-fed burger or steak.
Enjoy this forest-to-table delicacy!
KIGI,


Other articles you'll love:

Please be sure to subscribe to Tyrant Farms to see what's in-season out in nature, have fresh seasonal recipes delivered to your inbox and get helpful organic/permaculture gardening & duck keeping tips.