Tyrant Farms is reader-supported. When you buy through links on our site, we may earn an affiliate commission.
Learn more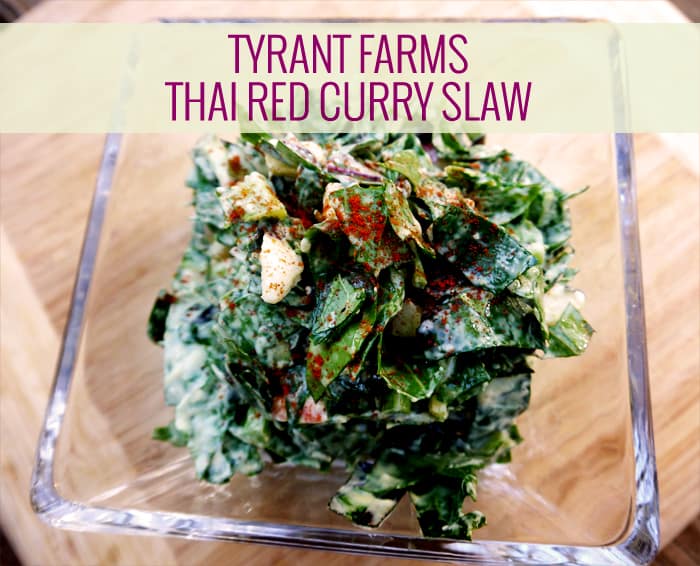 Tyrant Farms Thai Red Curry Slaw
Do you have tons of extra greens laying around (kale, spinach, chard, kohlrabi, cabbage, beet, broccoli)? Then this is the perfect recipe for you!
This slaw recipe has become one of our go-to ways to enjoy greens this fall. It's so easy… super nutritious, and tastebuds swooning kind of yummy. The curry gives you a bit of galangal with lemon grass and a hint of keffir lime; and the olive oil with egg really smooths out that tiny bite that you would usually find in eating raw leafy greens. I can not stress this enough: in this recipe, the secret really is in the sauce. Please note: your typical store-bought in the jar mayonnaise won't yield good results. Nope, don't even try using it. Typical mayo is heavy and slimy. The Tyrant Farms version of mayo uses an olive oil and grapeseed/safflower oil base, so it's not slimy. Or gloopy. It's truly a different experience.
As long as we are all on the same page – NO STORE BOUGHT MAYO, let's proceed…
Preparations
Step 1: The Red Curry Sauce: Whisk to combine the following in a small bowl (the exact amount made depends on amount of greens we have picked):
3/4 C Tyrant Farms Garlic Mayonnaise (we add organic white wine vinegar & a small amount of fresh lemon juice to our base as it says in step 6 of the mayonnaise recipe)
2+ tbsp. Red Curry paste (adjust to your taste. Also note that Green Curry works well, too)
1-2 tsp. Curry powder
1-2 tsp. Spicy Paprika
Salt to taste
Note: Whether we're making an old recipe or coming up with a new one, we typically let our taste-buds guide the final spicing decisions. It's the best way to tell if the sauce is where you want it to be or to experiment with new spices. Usually you want your sauces to taste a bit strong before you dilute them or mix them in with other ingredients. If the sauce tastes a tad strong (meaning heavy on the spices), you've probably gotten it where you want it. If it's sort of weak (or how you want it to taste when it's mixed in to the recipe) then add more spices, curry paste, etc.
Step 2: The Greens:
15-20 good sized leaves chopped in to 1/4″ strips, then cut in half so you're left with a roughly 1/4″ x 1/4″ piece – Kale, Spinach, Chard, Cabbage, Beet Greens, Broccoli Greens, Cauliflower Greens, Kohlrabi Greens, Collards… Any leafy green will do. Our favorite tends to be the cole crops though.
Step 3: Optional things that are good to throw in:
1-2 Firm organic apple/s
1-2 Large Carrot/s
1 Large Parsnip
1/4 C Raisins
1/4 C Walnuts
Fresh Daikon Radish sliced in strips on a mandolin
Fresh Kohlrabi bulb sliced in strips on a mandolin
Putting it all together:
In a small bowl, whisk to combine all the sauce ingredients to make you base, Red Curry Sauce.
In a large bowl, combine your greens & any optional ingredients you want.
Depending on the amount of flavor & the consistency you want (sauce : greens), add more or less mayonnaise.
Refrigerate for a 15-30 minutes and serve!
This is a great recipe for lunch & dinner leftovers throughout the week, so don't be shy about making a bunch of it.
Enjoy and as always,
KIGI
,


Please be sure to subscribe to Tyrant Farms to see what's in-season out in nature, have fresh seasonal recipes delivered to your inbox and get helpful organic/permaculture gardening & duck keeping tips.