Tyrant Farms is reader-supported. When you buy through links on our site, we may earn an affiliate commission.
Learn more
Elderberry Syrup Is A Flu and Cold-Fighting Superfood That's Easy to Grow and Delicious to Drink.
It's been about 2,500 years since Hippocrates—the founder of modern medicine—famously supposedly stated, "Let food be thy medicine and medicine be thy food." This notion might seem antiquated now, but we think modern science fully supports Hippocrates' views, within reason. (A good diet won't cure a broken arm, but it might have kept the bone from breaking in the first place.)
With that in mind, we have a backwards (or maybe forwards?) view on food and medicine. We eat to be well, instead of eating to be fed. Don't get me wrong, we love eating, and the foods we eat are amazingly delicious. However, we don't count calories, believe in fad diets, etc.
Our "diet" can be summed up thusly: when hungry, we eat minimally processed, fresh, organically-grown foods. This includes eating all the fruits and veggies we want. This includes eating some protein and fat from responsibly/humanely raised animals (which contrary to popular belief can actually be GOOD for the environment). This includes cooked foods, because your body can actually absorb more and better nutrition through most cooked foods than through eating those foods raw (cooked food is one of the greatest hacks humans have ever invented, and arguably the technology that made us uniquely human).
Every meal we eat is an investment in our health, the type of economy and agricultural system we want to have, and the environment. So we try to make three good investments per day (sometimes more if we're especially active).
One way you can really improve your diet while lowering your grocery bills is by learning to grow some of your own food. Food doesn't get fresher, more local or more nutritious than what you eat out of your own yard at the peak of ripeness. And if you learn to use permaculture methods, you'll be quite surprised with how much you can produce relative to the time and money you invest.
Elderberries: A Healthy Investment
One of the best investments we've ever made in our home "food forest" is elderberries. We purchased four elderberry plants ('Adams', 'Nova', and 'Johns' varieties) a few years ago. They didn't produce the first year, but each year after the plants continue to get bigger and produce more berries.
That's what's so wonderful about perennial plants: they produce more food each year with minimal work required. Each elderberry plant also produces lots of runners, so if you want to dig them up and transplant them to grow more elderberries, you'll have an easy time of it.
This year, we'll probably end up with over 100 pounds of berries off of our four elderberries. The plants are now between 7-10 feet tall and the tip of each branch produces a beautiful cluster of berries that go from green to deep-purple/black color when they're ripe.
You don't want to eat the green/unripe berries, leaves, stems or roots of elderberry plants, since they contain cyanide producing glycosides — these compounds dissipate when the fruit ripens.
It's also worth noting that those berry clusters start out as clusters of tiny flowers with a delightful scent in the early spring. The flowers are also edible and can be made into wines, liqueurs, syrups, vinegars, sorbets, or whatever other concoctions you can imagine. In fact, elderflowers are the source of the delightful flavor of St. Germain, the famed French liqueur.
Elderberries grow natively around the globe, including in North America, where they were apparently quite popular with indigenous American cultures. Our native, non-cultivated varieties are also quite good for eating. Where we live at the base of the Appalachian Mountains in South Carolina, we see native elderberries everywhere: open fields, along creeks, growing out of ditches, etc..
Let Thy Food Be Thy Medicine
Elderberries have become a bit of a health food sensation over the past decade as several research studies have found that they can reduce the severity and duration of influenza (aka the flu). Just this week, a new research study by E. Tiralongo and Dr S. Wee from Griffith's Menzies Health Institute Queensland showed that elderberry can also treat the common cold and respiratory problems often experienced by airline passengers.
These research studies typically used powderized elderberry extracts, so we're curious if using a high-quality, high-potency elderberry syrup would show even better results. (We're proponents of food synergy.)
It would be unethical to perform human test trials, but we're also curious as to whether elderberry syrup can possibly even prevent the onset of influenza or common colds. In this regard, we're human guinea pigs on our own non-scientific research study since we drink elderberry syrup throughout the year, including flu season. Nope, we haven't been sick since, although we rarely ever got sick before, so that's certainly not proof of efficacy.
What Do Elderberries Taste Like?
Eaten fresh off the bush, elderberries aren't among the most delicious berries you'll ever eat. They're certainly not bad. The flavor is similar to a dull grape-blueberry combination, and they're a bit seedy. However, when cooked and sweetened with a bit of honey or sugar, the flavor really intensifies and becomes delightful, making great pies, jams and fruit leather.
Our favorite way to prepare them is to make them into sealed jars of elderberry syrup that we can open and sip regularly throughout the year—and maybe a bit more during flu season if we're out in public a good deal.
Elderberry syrup is as simple to make as elderberry jam. The flavor is hard to describe or compare to any other fruit. Perhaps the most proximate flavor would be highly concentrated grape juice. And the color is a deep, gorgeous dark purple, indicative of the high amounts of flavonoids they contain (an antioxidant).
How To Make Elderberry Syrup
This recipe makes 9-10 cups of elderberry syrup. If you want to make more (and less thick) syrup, don't boil it as long. If you want to make less (and more thick) syrup, boil it longer.
What You'll Need:
cone strainer – a cone-shaped sauce strainer with legs works best since it lifts the strainer above the fluid you'll be straining out, but a bowl-shaped pasta strainer will work fine too
the individual items below, or an affordable canning set which includes everything listed
large pots (one for making syrup and another for canning/boiling water)
canning jars
metal ladle for putting juice into jars
metal canning funnel to reduce spills while putting juice into jars
magnetized canning lid lifter (optional but makes the job easier)
jar lifter (again, optional but easier)
*you may want to invest in a canner set or even a pressure canner if you plan to do a lot of canning
*If you don't want to go through the trouble of canning, you can also get freezer-safe jars and simply freeze your elderberry syrup.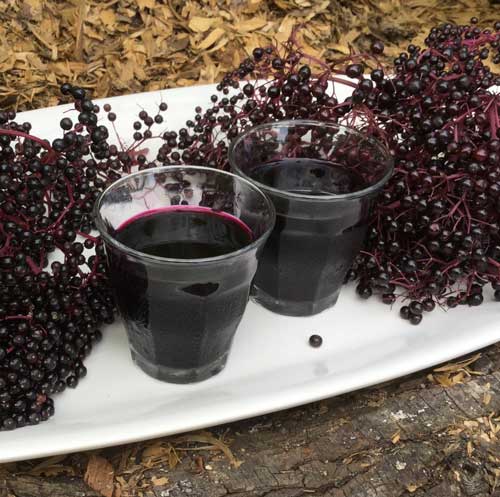 Print
How to Make Elderberry Syrup
Ingredients
Note: Adjust recipe up or down depending on how many elderberries you have.

10

pounds

of fresh or frozen elderberries

5

tablespoons

of molasses

optional, we just like the added flavor and it's loaded with nutrients

3

cups

of organic pure cane sugar

note: adjust sugar amount to your tastes - we use a lot of our own grapes as a sweetener, so we use less cane sugar
Instructions
Put all ingredients into a large pot over medium heat.

Stir to prevent initial fruit scalding. The berries will soon begin heating and bursting, and there will soon be plenty of fluid to prevent the fruit from scalding. (*If using frozen berries, add some water to the pot before cooking to prevent scald, since it will take a while for the frozen berries to thaw.)

Bring to low boil and let it continue at a low boil with no lid for 30-60 minutes, stirring occasionally.

After the mixture has reduced about 50% from its initial level, remove from heat and let it sit until it's cooled enough not to burn you when touched.

Place folded cheesecloth inside strainer. Place strainer inside of large pot of bowl where strained juice will go.

Once cooled enough to touch, pour elderberry mixture into cheesecloth/strainer that is sitting in pot/large bowl. Using your hands or a sturdy spoon, push as much juice out of the berry mixture as possible. You'll end up with a bunch of lightly damp fiber, seeds and pulp left in the cheesecloth. This is great for compost or perhaps your chickens will like it (our ducks showed no interest). If you throw it into the trash, the Elderberry Witch will haunt you and ten of your friends for 11 years.

Now you should have a nice pot of thick elderberry juice. Place the elderberry juice back on the stove over medium heat or until the fluid is at a low boil. At the same time, boil small canning jars in water for 15 minutes to sanitize them.

Continue at a low boil until the juice mixture has been reduced another 25% or so, then remove from heat.

Remove jars from boiling water. Put funnel in each jar and fill each jar with elderberry syrup to just below the thread line. Use magnetized canning lid lifter to dip each lid into boiling water for about 10 seconds to sanitize it and soften the rim sealer. Screw lids on to each jar so that they're in place but not tight - you want a little give.

Place jars back into boiling water so that the water is at least 1-2" above the surface of the jar. Cover pot. Set timer for 15-20 minutes and allow water to boil the entire time.

Remove jars and put on stove or counter top. Jars should make a "pop" sound and the lids will indent slightly. This indicates that they have properly sealed and are safe for storage. If they do NOT seal properly, you'll want to reseal them by boiling for another 5 minutes OR plan to store them in a fridge or freezer. You can get very sick or die by eating improperly canned/sealed food items, so be careful.
Enjoy Elderberry Syrup Throughout the Year
Once you've made elderberry syrup, simply take out a new jar each time you finish off an old one.  We enjoy sipping on a full shot glass of elderberry syrup several nights per week throughout the year. Elderberry syrup can make a great addition to your healthy lifestyle. We hope you'll enjoy this delicious medicine!
KIGI
,


Please be sure to subscribe to Tyrant Farms to see what's in-season out in nature, have fresh seasonal recipes delivered to your inbox and get helpful organic/permaculture gardening & duck keeping tips.