Tyrant Farms is reader-supported. When you buy through links on our site, we may earn an affiliate commission.
Learn more
If you're wondering how to grow organic turmeric and ginger, you're in the right place!
My better half (aka The Tyrant) and I have been growing multiple varieties of ginger and turmeric in our own organic garden for over five years. I also grow both crops commercially for Oak Hill Cafe and Farm, where I'm the farm manager.
Over the years, we've learned quite a bit about how to get large yields of turmeric and ginger from both in-ground and container-grown production.
Why grow your own organic turmeric and ginger?
Why should you bother growing your own organic turmeric and ginger in the first place? Here are 5 good reasons:
1. It's easy. As you'll find out in this article, both turmeric and ginger are relatively easy to grow, even for beginning gardeners — and even if you live in colder climate zones.
2. Variety. As with pretty much every other crop on earth, there are multiple varieties of ginger and turmeric to choose from, many of which you'll probably never see on a grocery store shelf.
3. Quality. It's hard to beat the quality of your own organically grown turmeric and ginger. Also, food doesn't get any more local than your own yard.
4. Oh "baby." We love making turmeric and ginger candy. The best way to do this is using "baby" turmeric and ginger, e.g. the younger, immature rhizomes, not the mature, more fibrous rhizomes that you get in the grocery store. (Those are great in other recipes, but usually not tender enough to make an ideal candy.)
5. Joy. If you're like us, you love growing plants and the joy that comes from growing new things. If you've never tried growing turmeric and ginger before, why not give it a try?
Grow Medicine
As you've probably heard, gardening helps keep you healthy.
Aside from the health benefits of gardening in general, another great reason to grow turmeric and ginger is that both plants have proven medicinal benefits. A few highlights:
Turmeric Medicinal Benefits:
Ginger Medicinal Benefits:
A review of available research studies of the various medicinal benefits of ginger, show that ginger's potent antioxidant compounds have:
anti-inflammatory effects;
anti-nausea effects;
anti-carcinogenic effects;
cardiovascular and other disease-preventing effects.
By growing your own turmeric and ginger, you're growing edible medicine and getting all the health benefits that come with gardening! That means you'll live to be 450 years old and have a rock hard body — if you're an oak tree.
Step-by-step: How to grow your own organic turmeric and ginger no matter where you live
Turmeric (Curcuma longa and Curcuma mangga) and ginger (Zingiber officinale) are closely related plants in the Zingiberaceae family. Both plants originated in south/southeast Asia and are prized for their edible and medicinal rhizomes.
Given their proximate genetic lineage, both plants enjoy nearly identical growing conditions.
Step 1: Plant Selection
Unless you're a breeder, turmeric and ginger are typically grown from pieces of a previous year's mature rhizomes, not actual seed. Nevertheless, these pieces are referred to as "seed" rhizomes.
There are two ways to get hold of good turmeric and ginger "seed":
Grocery Store – You may be able to find organically grown turmeric and ginger rhizomes at a local grocery store or farmers market. If so, those store bought rhizomes can be used to grow your own plants. However, grocery stores don't usually carry rare varieties.
Specialty Retailer – If you want to grow more unusual varieties of turmeric and ginger, we'd recommend you source your seed stock from a specialty retailer (nursery or breeder).
We purchased our original rhizomes from Hawaii Clean Seed. You can also buy bulk, certified organic ginger (to eat or to plant) here.
Ginger Varieties
Hawaii Clean Seed currently offers four different varieties, each with their own unique characteristics and optimal growing conditions:
*Bubba Baba (*this is the main ginger variety we grow) – mature rhizomes have a deep blue-colored flesh once they've cured; it's a reliable grower in all climates.
Yellow Hawaiian – deep yellow flesh and intensely spicy flavor; ideal for hot, dry environments.
Khing Yai – large yellow-fleshed variety grows well in a variety of climates.
Madonna – smaller rhizomes with dark blue flesh and the most intense spice/heat of all.
Turmeric Varieties
Hawaii Clean Seed also offers four unique varieties of turmeric:
*White Mango, Curcuma mangga(*one of the main varieties we grow) – pure white flesh; very mild with the taste of green mango;
*Indira Yellow, Curcuma longa – (*one of the main varieties we grow) – Classic Indian variety with dark yellow flesh; fastest to maturity and robust flavor;
Red Hawaiian, Curcuma longa– fast growing, dark orange flesh with intense flavor;
BKK, Curcuma longa – produces smaller dark orange rhizomes prized for their medicinal qualities due to higher cucurmin content.
Choose the varieties that sound best for what you want and where you live.
Step 2: Site Selection (and Container Growing)
Turmeric and ginger have very similar growing requirements: rich soil, lots of sun, consistently moist soil, and temperatures between 70-90°F.
From a gardener's perspective, the main difference between turmeric and ginger is that turmeric can grow up to 6′ tall with wide flat leaves whereas ginger only grows to about 3′ tall with much smaller leaf blades.
The following information is important to consider when selecting the location(s) to plant your turmeric and ginger:
"Baby" turmeric and ginger takes about 4-6 months to develop;
Mature turmeric and ginger (like you get in a grocery store) takes about 9-12 months to develop.
Given our location in Ag Zone 7B on the outskirts of Greenville, SC, we technically only grow "baby" rhizomes, which are delicious, more tender, and milder in flavor than the mature rhizomes. (Ours go in the ground mid-April and come out around Nov 1.)
Baby rhizomes can still be stored indoors and used as seed for next year's crop.
Depending on what the climate is like where you live, you may want to select sunnier or shadier spots to plant your turmeric and ginger. You may also want to use pots/grow bags, rather than growing in-ground.
Tropical or hot desert climates – If you live in a hot climate, you can get away with planting ginger and turmeric in a part shade location (6 or fewer hours of direct sunlight). Ideally, the spot could get sun from morning – early afternoon then be shaded during the intense heat of late afternoon.
Moderate climates – If you live in a moderate climate zone like we do, you'll need to choose a location where your turmeric and ginger get as much full sun as possible, 8+ hours.
Cool climates – If you live in cooler, northern climates, you may want to consider growing your turmeric and ginger in grow bags 5 gallons or larger per plant to provide ample room. Grow bags will make it easy for you to start your rhizomes indoors before last frost, carry them outside after last frost, then bring back inside to finish maturing when cold weather returns in the fall. Grow bags also allow for healthier root growth relative to standard gardening pots as you can read about here.
Step 3: Planting
Turmeric and ginger both have the same general rhizome structure: Each large "hand" contains multiple "fingers." Botanically, the fingers are called nodes and each node is comprised of internodes covered with thin papery scales.
From the tip of each node, arial shoots will form to produce the above ground plant that you see. Roots will form on the bottom of each node.
When planting, cut up a hand of turmeric or ginger into individual nodes.
Spacing – Plant each ginger node about 10″ apart from the next node. Since turmeric is a much larger plant, we'll usually space those at least 12″ apart, rows 24″ apart. However, if you're putting the plants in an edible landscape, you can cluster them together a little more densely.
Depth – Bury each node about 2-3″ deep.
Soil Fertility – Both turmeric and ginger will be healthiest and produce the largest rhizomes if grown in rich, deep, fertile soil that maintains even soil moisture (not too wet though). We always put compost in the planting hole and also top-dress the beds with 2-3″ of compost when planting. We also recommend top-dressing with an additional 2-3″ of wood chips or chopped leaves to boost biological soil fertility, moderate soil temp fluctuations, and maintain even soil moisture.
It will take anywhere from 2-4 weeks for the first turmeric and ginger shoots to emerge from the ground after planting.
Step 4: Maintenance
Pests & Diseases – Don't like dealing with plant pests and diseases? Then you'll love growing turmeric and ginger. There are virtually no pests that will damage them, and if you grow them in good soil in the right spot, there are virtually no diseases that will affect them either.
Irrigation – If you don't get at least 1-2″of rain per week in summer, you might want to irrigate. We use the word "might" here because both turmeric and ginger are quite tough and can live through short periods without water. However, prolonged periods (10+ days in the summer) without water will stress the plants and slow rhizome growth.
Topping Up – After a few months of growth, you'll probably see the tops of your rhizomes pop through the soil surface (especially your ginger). At that point, you'll want to apply another 2″ of compost + 2″ wood chips around the plants, aka "hill them up." This will protect them, give them a boost of nutrition, and lead to larger rhizomes.
Step 5: Harvesting, Cleaning, Storage
Edible Parts
All parts of turmeric and ginger plants are edible: rhizomes, flowers, stems, and leaves.
Flowers – Unless you live in the tropics, it's unlikely that you'll get turmeric flowers since they take 9+ months to form. We've had ginger start to flower in our zone after 6-7 months of growth.
The flowers of both plants are edible and considered a delicacy.
Leaves and Stems – The leaves and stems of turmeric and ginger are also edible. They taste like mild versions of the roots and are used to flavor teas, soups, and sauces.
The large leaves on turmeric are perfect for wrapping food inside for steaming or cooking over a fire. We've seen turmeric leaves used for wrapping everything from a piece of fish to Asian desserts like coconut sticky rice.
Keep in mind that removing the plant's leaves does take energy away from rhizome production, so don't harvest too many leaves from a single plant.
Baby Rhizomes – Depending on growing conditions, baby turmeric and ginger will be ready to harvest in 4-6 months after planting.
"Baby" simply means the rhizomes are younger, more tender and less fibrous, with a less potent flavor. These baby rhizomes are perfect for making candied turmeric and ginger, or for other recipes that call for the fresh rhizomes. (Here's our delicious chewy candy ginger recipe.)
We LOVE making Asian dishes like summer rolls and ramen with diced ginger and white & orange turmeric added).
Mature Rhizomes – After 8-12 months, you'll have fully developed, large mature rhizomes.
Harvesting the Rhizomes – Our last frost date is around April 20, which is when we put our seed turmeric and ginger in the ground. You can start yours earlier than your last frost date by either: a) planting them under low tunnels, or b) starting them indoors in containers (pots or grow bags).
Leave your turmeric and ginger in the ground until after the first hard frost or freeze burns the leaves back to the ground. Then it's harvest time!
To harvest your rhizomes, start by brushing back the soil/mulch around the base of the plant. Then, using a spade or shovel, dig under the plant and lift.
Unless your soil is really light and loose, you'll likely have to go all the way around the plant with your shovel in order to dislodge the entire rhizome — especially if you're harvesting older, larger plants.
Next, use a sharpened set of quality pruning shears to cut the dead leaves and stems off the plant. (Put them in compost!)
Cleaning the Rhizomes – Turmeric and ginger can be hard work to clean, given their tight clusters and dense roots on the underside of each node.
We start by dumping the rhizomes in a large tub/bucket of water to loosen up the soil clinging to them. If you're cleaning a large amount of rhizomes, the next thing you're going to want to do is lay them on a firm, slatted surface outdoors so you can blast them off with a hose sprayer.
If you're cleaning a small batch under a few pounds, you can just spray off each rhizome by hand. You'll then want to clip off all the small roots attached to the underside of the nodes, and give the rhizomes one final hose down.
Step 6: Drying and Storing
Once your turmeric and ginger rhizomes are cleaned, it's time to dry and store them.
If weather permits, let the rhizomes dry outside during a sunny day to evaporate any water left over from the cleaning process. Then bring them indoors to dry for another 2-3 weeks. Be sure to lay them out no more than one layer deep, not stacked, so air can circulate around them.
After a few weeks, your turmeric and ginger rhizomes are ready for long-term storage. We put ours into large, open cardboard boxes so they can still breath. We pull out what we need for meals from fall – spring.
Once properly dried, our baby 7 month old turmeric and ginger easily store for up to 5 months until it's ready to plant again in the spring. Mature rhizomes can store even longer.
---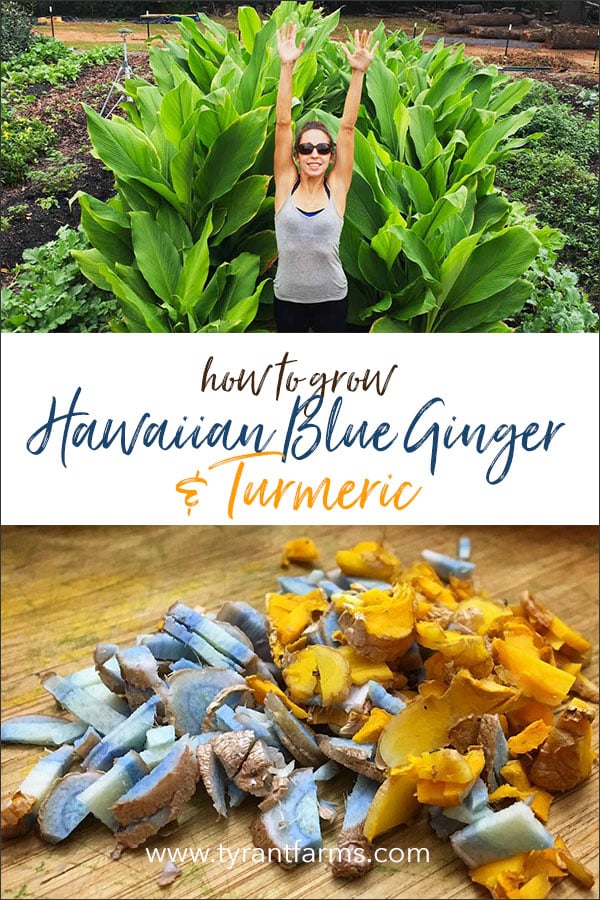 That's it! Now you know how to grow your own organic turmeric and ginger. We hope this information helps spice up your life.
KIGI,

Related articles to sink your teeth into:

Please be sure to subscribe to Tyrant Farms to see what's in-season out in nature, have fresh seasonal recipes delivered to your inbox and get helpful organic/permaculture gardening & duck keeping tips.